Orioles #20-29

NOTE: Years listed in parentheses represent only the years in which the player wore the listed number for the Orioles.




December 9, 1965. That was the day that the Cincinnati Reds traded Frank Robinson (1966-1971) to the Orioles for Milt Pappas and a few spare parts. Robinson, considered by the Reds to be "an old thirty", had an immediate impact on the franchise. He burst onto the scene with a home run in his first game, and on May 8, 1966, hit the only home run to completely leave Memorial Stadium, a 451-foot blast off of Luis Tiant. Robinson finished the season as a Triple Crown winner, leading the AL in batting average (.316), home runs (49) and RBI (122), and several other offensive categories. This made Frank a runaway choice for the Most Valuable Player award. For an encore, Robby took World Series MVP honors. He crushed two home runs off of Don Drysdale in the Series, powering the O's to a four-game sweep over the favored Dodgers.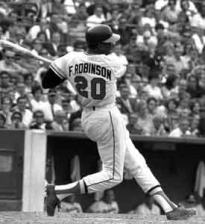 When the Birds traded the aging Robinson to Los Angeles before the 1972 season, they also retired his #20, making him the first player in team history to receive the honor. (He also had his #20 retired by the Reds.) After a stint in Cleveland as the first black manager in the major leagues, Frank returned to serve as Earl Weaver's hitting coach (1978-1980). He left for another managerial job in San Francisco, but returned to Baltimore once more to serve as bench coach for Earl and Cal Ripken, Sr. (1985-1988) When the team lost its first six games in 1988, "Senior" was fired and Frank took his place. He would helm the Birds until being replaced mid-1991 by Johnny Oates. The highlight of Robby's tenure was of course the plucky 1989 team, a collection of rookies and castoffs that finished just short of a worst-to-first turnaround.

Another feared power hitter and run producer wore #20 in Baltimore, with distressingly dissimilar results. First baseman Vic Wertz (1954) was one of the original Orioles, but his .202 average and one home run in 29 games spurred the team to trade him to Cleveland, where he promptly regained his batting stroke and helped the Tribe reach the World Series. Wertz is perhaps best known for hitting a towering drive to center field in that World Series which Willie Mays tracked down, making a spectacular over-the-shoulder catch. Pitcher Bob Chakales (1954), who the O's got in return for Wertz, picked up the first baseman's uni number.

A couple pitchers who wound down their careers with the Birds were Art Schallock (1955) and Cuban hurler Sandy Consuegra (1956).

A few other uninspiring number twenties were pinch hitter Bert Hamric (1958); first baseman Bob Hale (1958); outfielder John Powers (1960); reliever Billy Hoeft (1960-1962); outfielder Fred Valentine (1963); and former Dodgers outfielder Gino Cimoli (1964).

---


Believe it or not, my favorite story about the #21 involves outfielder Sammy Sosa (2005). Sosa has worn the number throughout his career to honor a fellow Dominican, the legendary Pirates outfielder Roberto Clemente. Sammy's stay in Baltimore was brief and discouraging. He hit 14 home runs in one injury-plagued season, conveniently forgot how to speak English during a congressional hearing on steroids, and reportedly stopped speaking to Miguel Tejada.

This is where the fun begins. The year after Sammy left, rookie outfielder Nick Markakis (2006-present) hit his way onto the team, and fans soon fell in love with his sweet swing, rocket arm, and flawless glove. With excess Sammy Sosa t-shirts and jerseys available at most stores for severely reduced prices, enterprising O's fans began buying up the apparel and either removing Sosa's name or covering it up with tape, leaving them with makeshift Markakis jerseys!



It may be hard to imagine now, but legendary third baseman Brooks Robinson wasn't always #5. He made his major league debut for the Birds in September 1955 wearing number twenty-one.

In the mid-90s, a couple talented starting pitchers accepted #21 as a fallback plan. Scott Erickson (1995) joined the team via a midseason trade with the Twins, and settled for the number until Ben McDonald departed at the end of the season. That opened up his preferred #19, which he wore for the rest of his Orioles career. Veteran lefty Jimmy Key (1997-1998) had worn #22 with the Blue Jays and Yankees for 12 seasons, but the O's had previously retired it for Jim Palmer. Wearing #21 on his back, Key won 16 games for the 1997 AL East Champions, but he called it quits after splitting the 1998 season between the rotation and the bullpen.

Outfielder Curt Motton (1967-1971, 1973-1974) provided pop off the bench for some of the greatest Orioles teams of all time. In 1969, Curt logged 89 at bats (the second-highest total of his career) and responded with 6 home runs.


Superb defender Charles Johnson (1999-2000) was the Birds' main man behind the plate for a year and a half, and had two of his best seasons as a hitter in Baltimore. Unfortunately, he was sent to the White Sox along with Harold Baines during the 2000 Fire Sale. In a typically shrewd move, de facto GM Syd Thrift acquired four players for the duo; only catcher Brook Fordyce ever suited up for the O's.

Manager Mike Hargrove (2001-2003) originally wore #30 with the Orioles. But with Charles Johnson out of the picture, Grover switched to #21, which he'd worn for his entire 12-year playing career.

In a swap of #21's, outfielder Lenny Green (1957-1959) was traded to the Senators for another outfielder, former AL Rookie of the Year Albie Pearson (1959-1960).

A handful of position players that wore the two-one were outfielders Jim Fridley (1954) and Gil Coan (1955); third baseman Larry Brown (1973), brother of former O's catcher Dick; shortstop Bob Bailor (1976); Elliott Maddox (1977); second baseman Kelly Paris (1985); catcher John Stefero (1986); and first baseman David Segui (1990-1993), who wore the number during his first stint with the club.

Pitchers in the 21 club include Howie Fox (1954); Sandy Consuegra (1957); former Tigers phenom Art Houtteman (1957); Steve Stone (1979); Dave Ford (1980-1981); one-and-done Dan Morogiello (1983); relievers Mark Brown (1984), Jack O'Connor (1987), Mark Thurmond (1988-1989), and Tom Bolton (1994); free agent bust Kent Mercker (1996); and Mike Milchin (1996).
---


Righthanded pitcher Jim Palmer (1965-1984) was one of the greatest pitchers in baseball history. There are plenty of numbers that serve as evidence: 268 wins, 211 complete games, 53 shutouts, 3 Cy Young Awards. But the most impressive might be his World Series wins in three different decades. No other player has accomplished this feat; "Cakes" was the only player whose Orioles career spanned all three championship seasons. The O's released Palmer in May of 1984, at which time he announced his retirement. The team retired his #22 the following season. Palmer and his #22 jersey briefly came out of the mothballs in 1991, but his comeback attempt sputtered out early in spring training. You can't blame a guy for trying, though.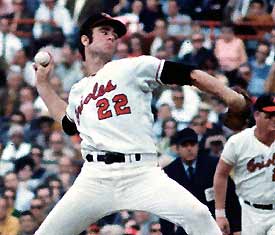 The very short list of twenty-twos in Baltimore includes pitcher Dave Koslo (1954); catchers Hal Smith (1955-1956) and Joe Ginsberg (1956-1960), who were traded for one another; outfielder Dave Philley (1960-1961), who had a record-breaking 24-for-72 pinch-hitting performance in 1961; and pitchers "Fat" Jack Fisher (1962) and Dean Stone (1963).

---


Catcher Chris Hoiles (1991-1998) holds practically every hitting record among Orioles catchers, including home runs in a single season (29 in 1993) and career (142). "Tractor Mechanic", as his teammates called him, struggled with injuries throughout the years; there's no telling what else he could have accomplished. As it is, O's fans have their memories: an "ultimate Grand Slam" - down three runs in the ninth - to beat Seattle in 1996; and two grand slams in one game at Cleveland in 1998. A grad of Eastern Michigan University, he had his #32 (the inverse of his Orioles digits) retired by the school in 1994. He recently managed the independent York (PA) Revolution. Other Baltimore catchers in #23 were reserve Vic Roznovsky (1966-1967) and former #1 draft pick Tommy Davis (1999).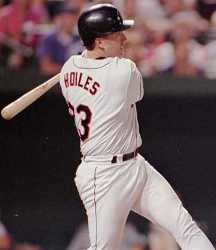 One of Hoiles' coaches with the Revolution is another Orioles Hall of Famer and #23: relief ace Tippy Martinez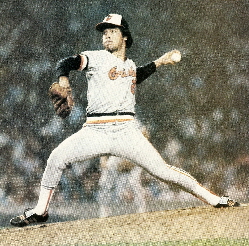 (1976-1986). Tippy was acquired in a mammoth trade with the Yankees, and wore #36 upon arrival; one of the players sent away was pitcher Grant Jackson (1971-1976), the previous occupant of #23. Martinez is still second in team history with 105 saves. He was a crucial piece of the 1983 World Champions, posting career highs in saves (21) and strikeouts (81) and a career low in WHIP (1.09).

Several twenty-threes were rags-to-riches stories, at least for a brief amount of time. Reliever Kevin Hickey (1989) appeared in 124 games for the White Sox from 1981-1983, but had been out of the majors for six years before the O's brought the 33-year-old north from Spring Training. His performance (2.92 ERA) was a factor in the team's shocking surge forward. Hickey would stick with the Birds through mid-1991, though he wore #45 for much of that time.

First baseman Fernando Tatis (2006) rebounded from a two-year absence in the bigs to play 28 games with the Orioles; nine of his fourteen hits went for extra bases. Southpaw Paul Shuey (2007) actually made it back to a major league bullpen after a series of hip surgeries forced his retirement in 2005. Sadly, it seems that his comeback story might be at an end.

A pair of well-known Orioles started out their careers in #23: slugging outfielder Don Baylor (1970) and pitcher Ben McDonald (1989), who joined Frank Robinson's pitching staff without playing a game in the minors.

After a year in the #12 jersey, injury-prone first baseman Will Clark (2000) switched to #23,which he had worn during his college days at Mississippi State University.

Pitcher Chuck Estrada (1960-1964) burst onto the scene with 18 wins in his first year, setting a record for O's rookies and helping the team give a serious scare to the Yankees. Chuck avoided the sophomore slump by notching another 15 wins, but injuries and control problems soon derailed his promising career.

In the beginning of the Oriole era, a game of hot potato seemed to claim #23. First came pitcher Lou Kretlow (1954-1955), who was sold to Seattle of the Pacific Coast League on June 7, 1955. Before he was officially an ex-Oriole, the team acquired pitcher Harry Dorish (1955-1956) from the White Sox on June 6. The following June 25, Dorish changed Sox, as Boston purchased his contract from the Birds. That same day, the home team picked up utility player Dick Williams (1956-1957, 1958) from Brooklyn and he claimed Dorish's #23. On June 13, 1957, Williams was swapped to Cleveland for outfielder Jim Busby (1957), who grabbed two-three in turn. But wait, there's more! Busby switched to #33 for 1958, just in time for Dick Williams, reacquired from Cleveland in another trade on April Fool's Day, to reclaim #23. Whew.

Let's move on with first baseman/designated hitter David Segui (2001-2004), who returned to Baltimore and found his old #21 in the possession of manager Mike Hargrove. Segui wore #23 for the last four injury-riddled years of a career that was bookended by four-year stints in Charm City. How's that for symmetry?

Speaking of bookends, reliever James Baldwin (2005) started his only season in Baltimore with a late May callup as #23. He was put on waivers in a roster crunch, and claimed on July 21 by Texas. A month later, the Rangers waived him, and he returned to the O's as #19, his previous number having been bestowed upon first baseman Alejandro Freire (2005). Freire soon settled upon #58, and Baldwin finished the 2005 campaign as #23.

Coming down the home stretch, we also find second baseman/third baseman Leo Burke (1959); 0-for-14 outfielder Carl Warwick (1965); pitchers Frank Bertaina (1969), Doug Corbett (1987), and Joe Price (1990); outfielder Trenidad Hubbard (2000); reliever LaTroy Hawkins (2006); and reliever Fernando Cabrera (2007), since the O's apparently decided that one wild righthanded pitcher named Cabrera wasn't enough. In mid-2008, reliever Ryan Bukvich hopped aboard the Norfolk-to-Baltimore express...and quickly grabbed a return ticket to Virginia. Three days later, his number was taken by 33-year-old rookie pitcher Alberto Castillo, not to be confused with the former O's backup catcher of the same name. When Castillo did not go North with the team the following spring, fire hydrant-shaped infielder Ty Wigginton (2009-2010) became the 30th player in club history to wear #23. He heated up in May 2010 and parlayed one good month into a surprise All-Star selection that summer. Former Indians outfielder Wayne Kirby is the current #23 and the O's first base coach.
---


Charismatic catcher Rick Dempsey (1976-1986, 1992) may be the unlikeliest World Series MVP ever. The Dipper enjoyed an unusually lengthy career - 24 years - thanks to his reputation for strong defense. But in the Orioles' five-game triumph over the Phillies in 1983, Rick swatted four doubles and a home run. The MVP hardware was an exclamation point on his postseason success; Dempsey hit .303 overall in six series with the O's and Dodgers. Of course, he truly captured fans' hearts with his extracurricular antics, such as imitating Babe Ruth and sliding on the wet tarp during rain delays and joining Wild Bill Hagy on top of the home dugout to spell out O-R-I-O-L-E-S.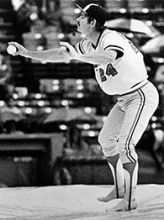 Dempsey was reportedly beside himself when the team traded for catcher Terry Kennedy, leading the longtime Oriole to sign with Cleveland as a free agent before the 1987 season. Things only got worse when the season began and he found out that pitcher Dave Schmidt (1987-1989) had been given his #24. Of course, Dempsey has since reconciled with the team, rejoining them for a curtain call in 1992 and as a coach (2002-2006). His nephew, catcher Gregg Zaun (1995-1996) even got to wear the orange and black #24. The most recent Oriole catcher to wear this number was backup Guillermo Quiroz (2008).

Outfielder Eric Davis (1997-1998) was not only a steady veteran presence on the Orioles, he became a true inspiration to the players and fans. He had already made a successful comeback in 1996 after retiring in 1994 due to a neck injury. Davis began the 1997 season on a tear, as did the team. But he was diagnosed with colon cancer, and a June 13 surgery and chemotherapy treatments beginning in July seemed likely to shelve him indefinitely. The team rallied around Davis, wearing #24 decals on the sides of their helmets. Amazingly, Davis returned to the lineup on a limited basis in September, and belted a game-winning pinch-hit home run in Game Five of the ALCS against Indians reliever Paul Assenmacher. Though the team lost the series and floundered the next year, Davis was better than ever in 1998. His 30-game hit streak is still an Oriole record, and his .327 average, 28 home runs, and 89 RBI were peaks that he had not reached since his prime in the 1980s.

One of the underrated members of the great Orioles teams was relief pitcher Pete Richert (1967-1971). In five seasons in Baltimore, he won 30 games and saved 37 more. Unfortunately, he also allowed the winning run to score on a controversial play in Game Four of the 1969 World Series. When Mets batter J. C. Martin dropped a bunt, he took off for first base on the inside of the baseline, obstructing Richert's throwing lane. Pete's throw subsequently hit Martin, the umpire missed the call, and the Mets won the game and later the Series.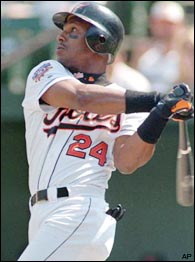 The Orioles have had a penchant over the past few decades for signing former stars on the decline. But there is an early precedent. Dizzy Trout, perhaps best known for notching 27 wins for the 1944 Tigers, had been out of the big leagues for five years when the O's signed him at age 42 in 1957. Dizzy had reportedly been keeping in shape on the sandlots, but that didn't translate to more professional success; Trout was touched up for three runs on four hits in one-third of an inning spanning two games before retiring for good. Former Red Sox slugger and gifted right fielder Dwight Evans (1991) also played out the string in Birdland, but held his own with a .393 on-base percentage in limited play. Not so fortunate was once-powerful catcher Matt Nokes (1995), who had a whopping 2 home runs among his 6 hits in 49 at-bats as Chris Hoiles' backup. Nokes was released in June, and badmouthed the team on his way out. Class act, that guy.

Pitcher Mike Torrez (1975) arrived from the Expos along with Ken Singleton in exchange for Rich Coggins and Dave McNally. Torrez won a career-high 20 games, and then was traded to Oakland in the Reggie Jackson deal. He is infamous for surrendering Bucky Dent's game-winning home run in the 1978 Yankees-Red Sox one-game playoff. One of the other Yankees he faced that day was outfielder Lou Piniella, who had debuted with the O's as a 20-year-old in September 1964. He wore #24 back then, pinch hitting once for pitcher Robin Roberts (grounding out to second base) and pinch running in three other games.

A pair of "bonus baby" athletes got their starts in #24: lefty pitcher Billy O'Dell (1954) and outfielder Roger Marquis (1955). While O'Dell went on to become a two-time All-Star with the Birds, Marquis got one at-bat, failed to deliver a hit, and was never heard from again.

Two of the most amusingly-named players in Orioles history wore #24 as well. Pitcher Arnie Portocarrero (1958-1960) had a career year after arriving from Kansas City, with 15 wins and a 3.25 ERA. He would win only five games total after that. Young infielder Enos Cabell (1972-1974) was traded to Houston for Lee May; I wonder who got the better of that deal?

Two Orioles coaches have also worn this number: hitting coach Greg Biagini (1993-1994) and offensive and defensive coordinator Brian Graham (2000), whose position sounds more suited for football. Herm Starrette (1963, 1964, 1965) pitched well in brief trials with the O's, but never stuck. He would return in 1988 as the pitching coach, although he may not admit that on his resume.
Currently, Chris Tillman (2010-present) is the youngest Birds' pitcher; he switched from #54 to #24 in 2010.

Closing the book on #24, we have pitchers Vern Bickford (1954), Harry Byrd (1955), Bill Short (1966), John Mitchell (1990), Adam Eaton (2009), who was so terrible he nearly merits his own paragraph, and Alberto Castillo (2009); backup catchers Mark Parent (1996) and Greg Myers (2001); and third baseman Willis Otanez (1999).
---


Okay, let's get this over with. First baseman Rafael Palmeiro (1994-1998; 2004-2005) was the anchor of some of the best-hitting Orioles teams in history. His 223 home runs as an Oriole rank fifth all-time. He logged his 3,000th hit in an O's uniform. But he embarrassed his team and the city of Baltimore with his positive steroid test and his pathetic, mealy-mouthed excuses. He drove the final nail in the coffin of a 2005 season that started with so much promise and wound up being the most depressing that I've endured as a baseball fan. Thanks, Raffy.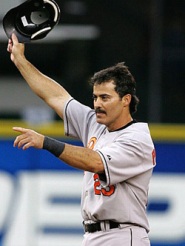 Outfielder/designated hitter/first baseman Jay Gibbons (2001-2003) willingly gave up #25 for Palmeiro when he returned to Baltimore. Gibbons had burst onto the scene as a Rule 5 player from the Toronto organization, hitting 15 home runs in just 73 games as a rookie, and nearly doubling that in 2002. The following year, he drove in 100 runs, but injuries and ineffectiveness have dogged Gibbons ever since he switched to #31. He's also been haunted by rumors of the sort that proved to be Palmeiro's undoing...but we'll reserve judgment for now.

On a lighter note, two of the Orioles' class clowns have also worn #25. Outfielder Jackie Brandt (1960-1965) once did a backflip to try to avoid a tag during a rundown. He tried to excuse his erratic play by positing that the faster he ran, the more his eyeballs jumped up and down.

The second flake was reliever Moe Drabowsky (1966-1968, 1970), who backed up his antics with his on-field performance. He posted WHIPs under 1.00 for three straight years, and his defining moment came in Game One of the 1966 World Series: six and two-thirds innings, one hit, eleven strikeouts for the win. Still, teammates and fans alike remember him for his pranks: hot foots (hot feet?), snakes in bread baskets, goldfish in water coolers. Most famously, he once called the Kansas City bullpen and ordered a pitcher to begin warming up, causing mass confusion for the Athletics.

Cal Ripken played alongside about thirty second basemen during The Streak, but one of the reliable ones was Rich Dauer (1978-1985). Dauer, who also put in some time at third base, was a steady defender. He also holds the Orioles record for fewest strikeouts in a season, with nineteen in 1980.


Outfielder Don Baylor (1971-1975) got his start in Baltimore, hitting the first 57 of his 338 career home runs. You might not realize that Baylor was also a burner in those days; he stole 118 bases in an Orioles uniform. He was the most prominent outgoing player in the blockbuster Reggie Jackson trade, and reportedly cried when he learned that he would be leaving town. Don had better days ahead, though, winning the AL MVP award in 1979 with the Angels and helping the Twins to a World Series win in 1987.

When Baylor went to Oakland, reserve catcher Dave Duncan (1976) took his #25, clearing the way for Reggie Jackson to have his preferred #9.

Manager Jimmie Dykes (1954) is the answer to a trivia question: Who was the first manager in Orioles history? Naturally, he is also the first manager in Orioles history to lose his job, as he was replaced by Paul Richards after piloting his band of rookies and misfits to a 54-100 record.

Third baseman Craig Worthington (1989-1991) was just one of several rookies who made a major and immediate impact on the "Why Not?" Orioles of 1989. Starting nearly every day, he drew comparisons to Brooks Robinson with his dazzling glove work at the hot corner and even contributed at the plate, cranking 15 home runs and driving in 70. For his efforts, he was named Sporting News' AL Rookie Player of the Year. Sadly, Worthington's career peaked early; he played only one more full season in the majors. Other Baby Birds in #25 include pitcher Bob Harrison (1956); designated hitter Tom Dodd (1986) and catcher Carl Nichols (1986); fireballer Matt Riley (1999); and pitcher Kurt Birkins (2006-2007), who switched midway through his rookie year from #56 to #25, which he'd worn for most of his formative years. You can add Jim Miller (2008) to this list as well.
The O's had high hopes for third baseman Ray Knight (1987), who had been one of the heroes for the 1986 World Champion Mets. Knight, wearing #25 as in his early years in Cincinnati, did not perform up to expectations and was traded to the Tigers for pitcher Mark Thurmond. Other under-performing veterans include pitcher Ted Gray (1955); ex-Giants first baseman Whitey Lockman (1959); second baseman Harold Reynolds (1993), who was buried by a dreadful April; and reliever Ricky Bones (1999).

The last few #25's to mention are pitcher Jim McDonald (1955); third baseman Rick Schu (1988) and outfielder Butch Davis (1988); hitting coach Greg Biagini (1992-1993); former basketballer/corner infielder Ryan Minor (2000); and pinch hitter/third baseman Howie Clark (2006), who was later the victim of Alex Rodriguez's "Mine!"/"Ha!" trickery. Long reliever Brian Bass (2009) had brief bursts of competence that were punctuated by too-frequent meltdowns, shortening his career with the Birds. Someone who didn't even have a burst of competence as an Oriole was first baseman Garrett Atkins (2010), who failed to hit a home run before being released two months into the season. He gave way to huge rookie third baseman Josh Bell (2010), who showed his inexperience and impatience by batting .214 with 53 strikeouts and only 2 walks. Bell in turn ceded #25 to veteran first baseman Derrek Lee (2011-present).

---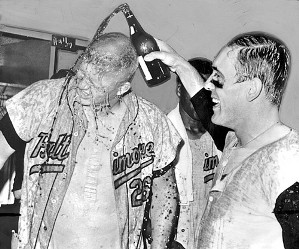 "BOOOOOOG!" John Wesley "Boog" Powell (1963-1974) swung the heavy lumber and held down first base for the Orioles in their golden era. Despite a handful of unlucky injuries in the first half of his career, the tank-like slugger put up eye-popping numbers year after year. At age 22, he smoked a career-high 39 home runs for the promising young O's. After falling off in 1965, he won Comeback Player of the Year honors for his 34 homers and 109 RBI in the team's championship year of 1966. The best was yet to come, as he spent 1969 and 1970 feasting on AL pitching (combined .300 AVG, .403 OBP, 72 HR, 235 RBI) and garnering hefty support for the MVP award (second place in 1969, winner in 1970).

Speaking bluntly, it seems as though Baltimore is the only city where third baseman/right fielder Bobby Bonilla (1995-1996) played that he wasn't hated. The mercurial Bonilla's frequent transgressions (particularly in New York) were not a problem in Charm City, as he seemed to be a good fit here. Bobby Bo was a midseason pickup in 1995 that paid immediate dividends, hitting the cover off of the ball. Although the team as a whole underperformed that year, Bonilla returned for 1996 and his 28 HR and 116 RBI were a vital part of the relentless offensive attack that powered the Birds to their first playoff berth since 1983. He wore #26 in orange and black, since the #25 he'd worn as a Pirate and a Met was spoken for by Rafael Palmeiro. One of the players sent to the Mets in the Bonilla trade was outfielder Damon Buford (1995), who had been wearing #26 that season himself.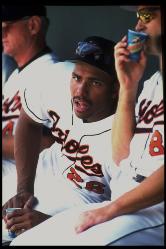 A few Orioles managers and coaches have sported #26. Long a right-hand man to Paul Richards, Luman Harris (1955-1961) took over as interim manager when Richards suddenly stepped aside in September 1961 to become general manager of the new Houston team. Former Rochester skipper Joe Altobelli (1983-1985) had the unenviable task of replacing Earl Weaver as O's manager. All he did was guide the team to its third World Series win in his first year on the job. When the team started sliding downhill shortly afterward, he was jettisoned for a returning Weaver. The current #26 is quotable, ornery skipper Buck Showalter, who has often drawn comparisons to Earl and has brought some swagger back to Birdland.

Former Oriole catcher Johnny Oates (1989-1994) spent two-plus years on Frank Robinson's coaching staff before replacing him in 1991. The team performed well under Oates, but not well enough for Peter Angelos, who fired him during the 1994 players' strike. Oates went on to have some success managing the Rangers before succumbing to a brain tumor in 2004. The next year, Texas retired his #26.

Tom Trebelhorn (2006-2007) spent seven years as third base coach and later bench coach under four different Oriole managers. He started out wearing #55, switching to #26 in 2006 to accommodate new O's catcher Ramon Hernandez.

Another Oriole who wore both #55 and #26 was outfielder/designated hitter Pete Incaviglia (1997). I liked "Inky" from his days with the scruffy, Kruk-led Phillies of the mid-90s, but I'm still not sure why the Birds thought they needed him. He came to town with Todd Zeile for the 1996 stretch run, because apparently we didn't have enough power hitting outfielders and DH's already. When the team acquired Harold Baines and Geronimo Berroa the following year, Pete was truly expendable, and was released in July.

Catcher Sal Fasano (2005) has become a cult hero wherever he's gone in recent years. His following in Baltimore wasn't as fervent as it's been elsewhere, but it's not hard to imagine what could have been had team brass allowed him to grow his trademark facial hair.

Also known for his distinctive look was Art Garfunkel-haired reliever Don Stanhouse (1978-1979, 1982). Stanhouse was dubbed "Full Pack" by Earl Weaver, because his penchant for putting extra runners on base caused the manager to smoke cigarettes by the pack. Nonetheless, he often got the job done, notching 45 saves in his two full seasons in orange and black.

A handful of other pitchers have worn #26 for the O's: reliever Marlin Stuart (1954) and control-deficient future Yankee Ryne Duren (1954); rookie Dick Luebke (1962); future Red Sox manager Joe Kerrigan (1980); ex-Brave Pete Smith (1998); and the second-tallest Cabrera to pitch in Baltimore, Fernando (2008). Recently, there was also a trade of twenty-sixes: slugger-without-a-position Oscar Salazar (2009) for sidearming reliever Cla "the Claw" Meredith (2009-2010).
The remaining position players with this number are Spanish-born catcher Al Pardo (1985-1986); catcher/outfielder Carl Nichols (1987-1988), who switched to #26 upon the arrival of Ray Knight; outfielder David Dellucci (1997), who would go on to befriend rocker Dave Mustaine and wrestler Kevin Nash (yes, really); thirtysomething "catcher of the future" Brook Fordyce (2000-2003); and bench jockey/infielder Luis Lopez (2004).
---


Pitcher Wally Bunker (1964-1968) had an amazing rookie season, especially considering that he was only nineteen years old. Bunker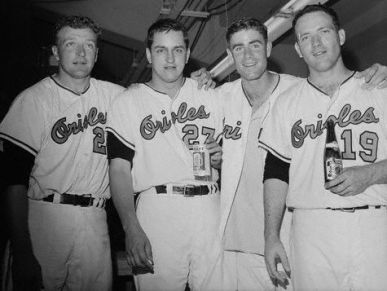 won the Sporting News AL Rookie Pitcher of the Year award and set a team record for wins by a rookie with nineteen. Arm troubles would shorten his career, but he did go on to win ten games for the great 1966 team. He capped that season with a six-hit shutout of the Dodgers in Game Three of the World Series, part of an astounding 33 1/3 consecutive scoreless innings by Orioles pitching in that series. His performance negated a three-hit, one-run effort by Dodgers starter Claude Osteen and reliever Phil Regan. Regan incidentally would manage the O's in 1995, wearing Bunker's old #27.

Another pitcher known for his October heroics against the Dodgers was Don Larsen (1954). Unfortunately, his record-setting perfect game in the 1956 World Series came as a member of the Yankees, who had acquired him from the Birds in late 1954 as part of the famous 17-player trade. Although Larsen had set an Orioles record in the team's first season with 21 losses, the Yanks must have seen signs of promise. He returned to the O's a decade later and was much more effective out of the bullpen.


One pitcher who had better luck with the Orioles in #27 was Dave W. Johnson (1989-1991), the pride of Middle River, MD. Dave was yet another out-of-nowhere hero for the 1989 team, tossing a complete game win in his Memorial Stadium debut, and completing three more games by the end of the season (winning two of those). He would lead the team in wins with 13 the following year before coming back down to Earth. Dave currently works as an analyst for O's games on MASN and WHFS 105.7, and son Steven pitches in the Dodgers organization. Dave has said (somewhat tongue-in-cheek, I suppose) that he was responsible for the failure of Glenn Davis in Baltimore, since GM Roland Hemond asked Johnson if he would give up his number for Davis, who had worn it previously in Houston. Johnson had just had the best season of his career, and didn't know much about Glenn, so he refused. He now says it was "bad karma". Speaking of which...

Sigh. First baseman/designated hitter Glenn Davis (1993) was supposed to be the Orioles' savior in the middle of the lineup when he arrived from Houston in 1991. All that the Birds sacrificed for Davis were a couple of raw-armed kids named Harnisch and Schilling, and a quick, singles-hitting outfielder named Finley. As disappointing and injury-filled as Glenn's first two years in Baltimore were, the third and final was even worse. Davis had his jaw broken in an altercation in Virginia Beach while on rehab for another injury, and when he finally rejoined the Orioles, was struck in the face by a foul ball while in the dugout. His one home run in thirty games in 1993 proved to be the last of his career. Again, sigh.

Substitute outfielder/designated hitter Benny Ayala (1979-1984) was more warmly regarded in Baltimore. He had only seven at-bats for the Orioles in two trips to the World Series (1979, 1983) but made them count, driving in three runs on three hits.

O's fans saw a lot of lefty situational reliever Buddy Groom (2000-2004). He pitched in 330 games in his five years in orange and black, an average of 66 per year. Groom had a career year in 2002, allowing less than one baserunner per inning and striking out four times as many hitters as he walked. His given name is Wedsel Gary Groom; which, as Bill James once said, explains why he goes by "Buddy". Another lefty vet who did his best work in an O's uniform was Panama native Bruce Chen (2005-2006), who nearly doubled his previous high in wins with 13 in 2005 and also surpassed his earlier mark in strikeouts with 133. Regrettably, he followed up with his worst season ever, going 0-7 with an ERA of 6.93. Journeyman (and ex-NBA player) Mark Hendrickson (2009-2010) is one of the tallest players in MLB history at 6'9"; in his first season in Birdland, the York, PA native struggled when thrust into the rotation but impressed in relief (4-0, 3.44 ERA out of the 'pen). He handed over his #27 to wild-swinging DH Vladimir Guerrero, who brings 436 career home runs to Baltimore in 2011.
One of a long line of young Orioles pitchers to be dubbed the Next Big Thing was the hefty Texan, Rocky Coppinger (1996-1999). Injuries and concerns over his weight limited Coppinger after a rookie season in which he rode exceptional run support to 10 wins. Other Orioles who debuted in #27 were pitcher Charlie Beamon (1956-1957); pitcher Wes Stock (1959); outfielder Fred "Squeaky" Valentine (1959), who didn't resurface until 1963; pitcher Art Quirk (1962) and catcher Nate Smith (1962); and outfielder Andres Mora (1976-1978).

Outfielder Lee Lacy (1985-1987) finished his career in Baltimore after several successful years in Pittsburgh (yes, he was a member of the blasted "We Are Family" Pirates of 1979). He had two solid years with the Birds before falling off in his final season. Another veteran outfielder and ex-Pirate whose career came to a rest in orange and black was Lonnie Smith (1993).

The full complement of #27s includes pitcher Saul Rogovin (1955); two outfielders named Joe - Durham (1957) and Taylor (1958, 1959); journeyman reliever Orlando Pena (1971, 1973); pitcher John Habyan (1988); catcher Mark Parent (1992); pitching coach Dick Bosman (1994); pitcher/piñata Keith Shepherd (1996); reliever Jim Corsi (1999); and sore-armed starter Jaret Wright (2007).

---

Versatile knuckleballer Hal Brown (1955-1962) was a reliable presence on the Orioles' pitching staff in the early years. "Skinny" won 62 games for the O's, mostly on the strength of his pinpoint control - he led the American League in fewest walks per nine innings in both 1959 and 1960. In 1961, he set a team record with 36 consecutive shutout innings. Brown went from July 7 to August 8 that season without surrendering a single run. He was preceded by the Orioles' first #28, pitcher Duane Pillette (1954-1955), who led the Birds in ERA in their first season.

Outfielder/designated hitter Jim Dwyer (1981-1984) wore #28 for the first half of his Orioles tenure. Although he was mostly platooned or used as a reserve with the O's, "Pig Pen" turned in one of the finest month long performances in baseball history during the 1983 championship season. In July of that year, he hit .474 and slugged 1.053 in just 48 plate appearances! Dwyer switched to #9 during the 1984 campaign, and rookie designated hitter Jim Traber (1984, 1986, 1988-1989) took his old number. Traber showed some pop early on, but eventually failed in the unenviable task of replacing the great Eddie Murray and headed to Japan to ply his trade.

Closer Randy Myers (1996-1997) nailed down wins for the Birds during their last two playoff seasons to date. He saved 76 games in all for the O's, and had another 4 saves for the team in the postseason. He also kept a grenade in his locker, which ensured that the sports media was on its best behavior around him. Other twenty-eights out of the Orioles bullpen include lefty George Brunet (1963); Eddie Fisher (1966-1967) and John E. O' Donoghue (1968), who traded places in a deal with Cleveland; Paul Hartzell (1980); Radhames Dykhoff and Joel Bennett, who combined for a total of three games in 1998; free agent disappointment Mike Trombley (2000-2001); and Danys Baez (2007-2009), who proved to be another $18 million lost. Baez was terrible in 2007, missed all of 2008, and was more or less average in 2009 (4.02 ERA, 5.0 K/9 IP).
Outfielder Pete Ward (1962) got only three hits for the Orioles in his first taste of major league action before putting together a few good years with the White Sox. A rookie outfielder that made a bigger splash with the Birds was the swift Curtis Goodwin (1995), who was hitting above .350 for the first month and a half with the big league team before coming back down to Earth. The O's had the foresight to ship him to Cincinnati for starting pitcher David Wells; Goodwin's performance peaked in that very first season.

Veteran outfielder Jim Northrup (1974) wore #28 when he arrived from Montreal in a September deal; the #5 he had worn in his prime with the Tigers was obviously not available. Young catcher Chris Hoiles (1990) might also look a little odd in #28; the following season he switched to #23 (his fourth number in three seasons) and wore it for the next eight years.

One lowlight concerns pitcher Eric DuBose (2004, 2005, 2006), who was pulled over for DUI in Florida in March 2005. He refused to recite the alphabet, informing the officer that he was from Alabama, "and they have a different alphabet". To be fair, I've never been to Alabama; that could very well be true.

I can't muster a lot to say about most of the players who wore twenty-eight. There's outfielder Tom Shopay (1971-1972, 1975-1977); designated hitter/infielder Marty Brown (1990); second baseman Shane Turner (1991); outfielder Jack Voigt (1992-1995); first baseman Ryan McGuire (2002) and Aussie pitcher John Stephens (2002); pitcher Damian Moss (2003), one of the three duds acquired from the Giants for Sidney Ponson; and outfielders Keith Reed (2005) and Terrible Luis Terrero (2006). Bench coach Jeff Datz (2010) was the first Birds coach to wear the number.
---


Number twenty-nine is claimed by outfielder/designated hitter Ken Singleton (1975-1984), who was one of the most feared hitters of his time. He received MVP consideration six times in his ten seasons in Baltimore, including a runner-up finish in 1979, when his 35 home runs and 111 RBI led the Birds to the World Series. He was beat out for the award by former Oriole Don Baylor, then with California. Ken also holds team records for walks in a single season (118 in 1975) and on-base percentage (.438 in 1977). Outfielder Chris Singleton (2002) also wore #29, but he is apparently no relation to Ken.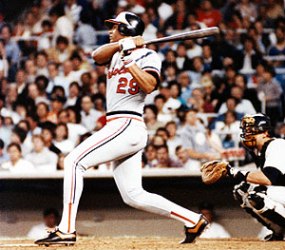 Reliever Dick Hall (1961-1966, 1969-1971) kept hitters guessing with an unorthodox 3/4 arm delivery with no windup. Known for his impeccable control, Hall never unintentionally walked more than 25 batters as an Oriole. He won 65 games and saved 58 in an O's uniform, but one of his best performances came in the 1969 ALCS. Earl Weaver asked Hall to preserve a 9-6 lead in the fifth inning of Game One. He held the Twins to one hit in four and two-thirds scoreless innings, striking out three and receiving credit for the win.

Pitcher Jack Harshman (1958-1959) did not have nearly as much control over his pitches as Hall, but he did manage to win 12 games with a 2.89 ERA in his only full season in Charm City. After losing his first six decisions the following year, he was dealt to Boston for pitcher Billy Hoeft (1959), who assumed Harshman's #29 before switching to #20 in 1960.

Promising lefty Steve Barber (1960) wore #29 for his rookie season, in which he tallied the first 10 of his 95 victories for the Birds. Another young southpaw who turned heads was Jeff Ballard (1988-1991), who became the team's unlikely ace in his first full season. The Stanford grad went 18-8 for a 1989 Orioles team that finished just short of the playoffs. However, Jeff won only 18 games combined in his other four campaigns in Baltimore. Next in line was fireballing lefthander Brad Pennington (1994-1995), who was a lot like Billy Wagner...if Wagner never learned how to pitch. His stat line for the O's: 45 and 2/3 innings pitched, 56 strikeouts, 44 walks. Eek. The most recent lefty prospect in #29 was former #1 draft pick Adam Loewen (2006-2008), whose brief career was marred by injuries. He's now trying to reinvent himself as an outfielder, a la Rick Ankiel. After Loewen shut it down, his number was claimed by fellow lefty Chris Waters (2008, 2009), who waited nine seasons to get the call and surprised everyone by tossing a few gems before washing out. After flashing #63 in an up-and-down rookie season, strikeout pitcher David Hernandez (2010) sneaked back into the Oriole rotation in the following spring training and switched to #29 in April. He finished the year cutting loose in the bullpen, and was traded to the Diamondbacks for Mark Reynolds.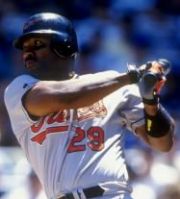 It seems like the Orioles became obsessed with the 1993 Toronto Blue Jays in the late 1990s, with mostly poor results. Of the seven members of that team who later joined the Birds, only Roberto Alomar made a real impact. Outfielder/designated hitter Joe Carter (1998) showed up just as the O's were going downhill. Joe's 34 RBI in 85 games sure didn't help, so he was shipped to the Giants for a warm body. Carter was just one of a succession of outfielder/designated hitter types who wore #29 in Baltimore. The others were the awful Luis Polonia (1996); free-swinging Pete Incaviglia (1997) and Geronimo Berroa (1997); and second-generation Oriole Derrick May (1999), whose father had worn #12 for the team.

Lesser lights among the twenty-nines are third base coach Tom Oliver (1954); pitcher Ray Moore (1955-1957), who did manage 33 wins in orange and black; southpaw Marcelino Lopez (1967); relievers Pat Clements (1992) and Gene Harris (1995); rookie third baseman Ivanon Coffie (2000); pitcher Jay Spurgeon (2000); and injury-riddled pitcher Kurt Ainsworth (2003-2004). First baseman Brandon Snyder (2011), the team's first-round draft pick in 2005, got a cup of coffee in May 2011 in #29 after debuting the previous September in #58.