Orioles #40-49
NOTE:
Years listed in parentheses represent only the years in which the player wore the listed number for the Orioles.


We'll take the #40s in chronological order. Outfielder Bob Kennedy (1954), father of ex-O's catcher Terry, was the first. He was followed by second baseman Don Leppert (1955), who was one of the seventeen players who changed hands in a trade with the Yankees the previous offseason. Mel Held (1956) pitched seven innings in the majors, all in an Orioles uniform. Lefty hurler Johnny Schmitz (1956) finished his thirteen-year career in the orange and black. Shortstop Jim Brideweser (1957) wore #40 in his second stint in Baltimore. Nineteen-year-old southpaw Ron Moeller (1958) and rookie outfielder Chuck Oertel (1958) split the number one year. Spare outfielder Barry Shetrone (1959-1962) was a hometown boy who amassed only 60 games in his big league career.

Lefthanded starting pitcher Mike McCormick (1963-1964) was a two-time All-Star and a Cy Young Award winner...in San Francisco. He won just six games in two years in Baltimore. He was succeeded by righty Dave Vineyard (1964), who pitched effectively as a rookie but struggled with arm problems and never made it back to the bigs thereafter. Another young pitcher who never realized his potential was Frank Bertaina (1965-1967).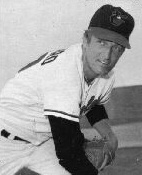 Righty Dave Leonhard (1968-1972) was the longest-tenured and most successful #40 for the O's, for what that's worth. The graduate of Johns Hopkins University worked mostly out of the bullpen, compiling a 3.15 career ERA with a career low of 2.49 in 1969. During that 1969 season, he split time between the Birds and the National Guard.

Shortstop Kiko Garcia (1976) wore the big four-oh as a September callup in his rookie season; he switched to #3 the following year. Catcher Dave Criscione (1977) made the most out of his nine at-bat career. Four days after he made his Orioles debut, his wife gave birth to a baby girl. Three days later, he made his only start; his two hits and a sacrifice bunt were instrumental in the team's 4-3 win over Milwaukee. The following day, he belted a solo, game-ending home run in the eleventh inning to beat the Brewers again, 4-3.

In the 1980s, three coaches wore #40 in Charm City: first base coaches Jimmy Williams (1981-1987) and Minnie Mendoza (1988) and hitting coach Tom McCraw (1989-1991).

Veteran Rick Sutcliffe (1992-1993) tossed a 2-0 shutout in the first game ever played in Oriole Park at Camden Yards, but that was essentially the high point of his time in orange and black. Signed to be a guiding presence for a young rotation that included Mike Mussina and Ben McDonald, "Sut" did win 26 games in two seasons with the O's. But his climbing ERA (5.75 in 1993) indicated that he was on his way out of the league. Other forties in the Nineties were fleet-footed outfielder Eugene Kingsale (1996, 1998, 2000, 2001) and reliever Mike Timlin (1999-2000), who flopped as the Birds' closer but later thrived as a setup man for the Red Sox.


Journeyman outfielder Willie Harris (2001), known for his double-earflapped helmet, got his start in Baltimore. The signing of outfielder/designated hitter Marty Cordova (2002-2003) was a major folly; he famously missed a game after falling asleep in a tanning bed. The last few players in this list are retread catcher Keith Osik (2004); hard-throwing reliever Eddy Rodriguez (2004); Tim Byrdak (2005-2006), who had last pitched in the bigs in 2000 prior to suiting up for the O's; reliever Winston Abreu (2006); Canadian outfielder Adam Stern (2007); and power-hitting catcher J. R. House (2007), who has failed to catch on with three separate teams so far. The consistently erratic, 6'9" Daniel Cabrera (2008) discarded the #35 he'd worn for his first four seasons and chose to take the mound in #40, with no real explanation given. The change didn't produce results on the mound, and the team parted ways with Daniel the following offseason. First baseman Rhyne Hughes (2010) made a statement with four hits and two RBI in his first two major league games before running out of steam. Number forty got passed around in 2010, with infielder Scott Moore wearing it during a 41-game swing in midseason. In September, the third time proved a charm for pitcher Troy Patton (2010-2011), who had gone unused in two previous stints in #54. He finally made a single relief appearance, three years after last taking to a big league mound with the Astros.
---


Walrus-mustached Don Aase (1985-1988) was a strong fireman for the Orioles for a couple of years. He won 10 games out of the bullpen and saved 14 others in his initial campaign in Baltimore. The following year Aase had his finest season, setting a record for saves by a pitcher on a last-place team with 34. He was also selected to the All-Star team that summer.

Another All-Star pitcher for the O's was southpaw Billy O'Dell (1958-1959). The former "bonus baby" came into his own in 1958, after cups of coffee in 1954 and 1956 and a proper rookie season in 1957. #41 was the fourth number he wore for the team (see Odds and Ends for more details). O'Dell won 14 games, saved 8 more, and posted a 2.97 ERA in his second full season in the bigs. The Midsummer Classic that year just happened to be in Memorial Stadium, and American League skipper Casey Stengel called on Billy to preserve a 4-3 lead. With his hometown fans cheering him on, "Digger" did just that, twirling three scoreless frames to earn Most Valuable Player honors. After another All-Star season in 1959 (his 2.69 strikeout-to-walk ratio lead the league), O'Dell was traded to San Francisco in the deal that brought outfielder Jackie Brandt to Charm City.

Kevin Brown (1995) was another talented pitcher who wore #41 in orange and black, though he was just passing through. After a middling performance (10-9, 3.60 ERA), he went to the National League and posted earned run averages of 3.00 or lower in seven of the next eight years, appearing in two World Series during that span. Nice of him to hold out on us, wasn't it? At least he fared better than veteran National League transplants such as mouthy reliever Steve Kline (2005) and starter Steve "the new Human Rain Delay" Trachsel (2007, 2008). The less said about Victor Zambrano (2007), the better.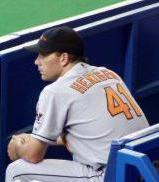 Another veteran pitcher who didn't quite pan out was former Blue Jay and Cy Young Award winner Pat Hentgen (2001-2003). Injuries limited him to just 41 starts (what a coincidence!) in three seasons. When he arrived in Baltimore, fellow righty starter Jason Johnson (1999-2000) gave up #41, switching to #16. Then again, after losing 10 of his 11 decisions in 2000, Johnson was probably eager for a change!

Believe it or not, there have been a few position players who have worn #41 for the Birds; most of them have been backup catchers. The most popular of the bunch may have been Jeff Tackett (1991-1994), who was also something of a movie star. There was also Valmy Thomas (1960), who baseball-reference.com tells me is most similar to fellow forgettable Orioles Tim Laker and Robert Machado; Dan Graham (1981); and one week's worth of Orlando Sanchez (1984). The only other position players in this number were a couple of outfielders: the spectacularly-named Drungo Hazewood (1980) and the less exciting Danny Clyburn (1998), who was traded for the aforementioned Jason Johnson.

Six O's coaches have donned the four-one, and they did so consecutively: George Staller (1962); former White Sox shortstop and Hall of Famer Luke Appling (1963); bullpen coach and former catcher for the International League Orioles, Sherm Lollar (1964-1967); bullpen coach Vern Hoscheit (1968); yet another bullpen coach, future hitting guru Charley Lau (1969); and hitting coach/first base coach Jim Frey (1970-1979).


At long last, we call it quits with a few more pitchers. These include Babe Birrer (1956); Cuban-born Mike Fornieles (1956-1957); teenage rookie Jerry Walker (1958); John Pacella (1984); "Texas" Mike Smith (1989-1990), who very nearly became a teammate of "Mississippi" Mike Smith (the latter was traded to the Pirates before ever getting the callup); also-ran lefty Paul Kilgus (1991); and reliever Archie Corbin (1996). The last two #41s were erratic relievers Bob McCrory (2008, 2009), who'd worn #31 in earlier trials with the club, and Armando Gabino (2010). Bullpen coach Rick Adair lays claim to the number in 2011.
---


First things first: the Orioles, as part of a league-wide tribute, retired #42 on April 15, 1997 in recognition of the 50th anniversary of
Jackie Robinson's debut with the Dodgers. It was the fifth number retired by the O's; catcher Lenny Webster (1997-1999), who had been wearing the number prior to that date, was allowed to continue in #42 until his release in 1999. Webster had a few good years splitting time with Chris Hoiles, including a career high 10 home runs and 46 RBI in 1998. In 2007, players across the league were allowed to wear #42 for one game only on Jackie Robinson Day. Many
teams chose to have all players and coaches wear it, but outfielder Corey Patterson (2007) was the sole Oriole to have the honor. The tradition continued in 2008, with young outfielder Adam Jones being selected by Dave Trembley to represent the Birds. Of course, commissioner Bud Selig took a good idea and drove it into the ground in 2009 by having all uniformed personnel on all 30 teams wear #42. Oh well.
A burly ex-Yankee, Hank Bauer (1963-1968) came to Baltimore as third base coach in 1963. The following season, he supplanted Billy Hitchcock as manager, and brought a winning attitude to the talented young Birds. They sat at the top of the American League for most of the summer before fading in September, eventually finishing one game behind the White Sox and two games behind the damned Yankees. After another third-place finish in 1965, the O's put it together in 1966, taking the AL crown by nine games. Bauer's boys kept on rolling, sweeping the favored Dodgers in four straight games to bring the World Championship home to Charm City. Despite his great track record, Hank was fired when the Orioles sunk to sixth place in 1967 and were slow out of the gate again the next year. Of course, the rookie manager they replaced him with turned out to be pretty good himself. I can't recall his name...Earl somebody.

After Hank Bauer's departure, nobody in Birdland wore #42 for fifteen years; it was eventually claimed by reliever Tom Underwood (1984). Underwood was decent enough, but a couple young pitchers with much brighter futures donned the number in later years. New Yorker Pete Harnisch (1988-1989) didn't seem to round into form until switching to #17 in 1990. Rookie catcher Chris Hoiles (1990) wore #42 during a June callup, but after he went back to Rochester the Birds traded for aging designated hitter/first baseman Ron Kittle, who had sported #42 throughout his career. When Hoiles returned to Baltimore later that year, he switched to #28. Kittle stunk out loud and was not brought back. The O's got a lot of mileage out of their #1 draft pick in 1990, Stanford righthander Mike Mussina (1991). He made it to Baltimore in his second year as a pro, and won the first 4 games of his career in #42. The next 246 victories and counting (153 in orange and black) were in #35.
Two Orioles coaches have dressed in the #42 jersey: Cal Ermer (1962) and pitching coach and ex-O's pitcher Ken Rowe (1985).

Additional forty-twos include Gordie Sundin (1956), who walked the only two batters he ever faced and was stuck with an infinite ERA; outfielder Carl "Jug" Powis (1957); young catcher Frank "Noodles" Zupo (1957, 1958, 1961); reliever Rich Bordi (1986), a member of Rick Dempsey's Invisible Orioles Magic Band; outfielder Nelson Simmons (1987); pitcher Mike Griffin (1987); and designated hitter/outfielder Sherman Obando (1993, 1995).

---


The best player to wear #43 for the Orioles was pitcher Curt Schilling (1988, 1989, 1990). The only problem is that he didn't put it all together until he was long gone from Baltimore. With the O's he was an immature flamethrower who didn't have much interest in the art of pitching, and it showed (1-6, 4.54 ERA). But he did meet his wife Shonda here, so...good for him, I guess.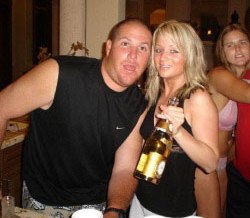 Speaking of talented pitchers who could have used an attitude adjustment, you might have heard of Sidney Ponson (1998-2003, 2004-2005). The stocky Aruban gave the Birds plenty of hope in his first three seasons, winning 29 games and going the distance 12 times. All along, though, there were questions about his attitude and conditioning. Sir Sidney finally had a breakout year in 2003, starting 14-6 before the O's swapped him to the Giants for three young pitchers (none of whom worked out, naturally). Team brass figured they were getting the best of both worlds when they convinced Ponson to re-sign that winter for 3 years, $22.5 million. Instead, their new investment showed up to camp overweight (even for him) and got off to a sparkling 3-12 start, losing NINE straight games. Though he rebounded with an 8-3 second half, the tone had been set. In 2005 Sidney would spend 11 days in an Aruban jail for assaulting a judge and accumulate two DUIs. This behavior, combined with the continued putrescence of his on-field work, left the Orioles with no choice but to terminate his contract. They cited a morals clause. Though a grievance was filed, he has yet to see a cent of what was "owed" him. As you can tell, he is sorely missed.

Outfielder Mike Young (1982-1987) was a hitter with some pop in his bat, but he didn't have much staying power. Young received some support for AL Rookie of the Year in 1984; he'd hit 17 home runs in his first full season. He bucked the so-called "sophomore slump" by bashing 28 round-trippers and driving in 81 runs. However, Mike had two disappointing years after that, and was dealt to the Phillies in March 1988. Two more forgettable seasons passed, and then he was out of the big leagues for good.

Rudy May (1976-1977) was the most successful pitcher to wear #43 for the O's. He and Dave Pagan arrived with Rick Dempsey, Tippy Martinez, and Scott McGregor in one of the last great huge trades. Though he didn't stick in Baltimore like the other players obtained from the Yankees, he did get the job done, winning 29 games in a little over a season and a half.

Three Oriole coaches have donned #43: Paul Richards' man Jimmy Adair (1956); and bench coaches Mike Ferraro (1993) and Steve Boros (1995).

Breaking things down by position, we have nine additional pitchers who claim this number: Chuck Locke and his three scoreless innings (1955); southpaw Charlie Beamon (1958); rookie Darold Knowles (1965); German-born Mickey Scott (1972); one-game whiz Jeff Rineer (1979); lefty Gordon Dillard (1988); former Twins righty Roy Smith (1991); original Devil Ray Esteban Yan (1996); and reliever Sendy "The First 'L' is Silent" Rleal (2006).


Among the position players are two-time Oriole outfielder Curt Motton (1973); shortstop/second baseman and Baltimore native Tim Nordbrook (1974-1975); infielder Steve Scarsone (1992); outfielder Tony Tarasco (1997), who switched from #3 late in the season when Harold Baines was reacquired; and corner infielder Scott Moore (2007), acquired in the Steve Trachsel deal. Though Moore switched to #9 to begin 2008, it's interesting to note that when he was sent to AAA Norfolk early that season, he was replaced by pitcher Jim Johnson (2008-2010), who then donned #43. Johnson had stumbled in previous cups of coffee as a starter, but has proven to be a surprise asset as a late-inning reliever. He put up a tiny 2.23 ERA in his rookie season and was under 3.00 at the end of August 2009 before faltering in the closer's role. An elbow injury truncated his 2010 season.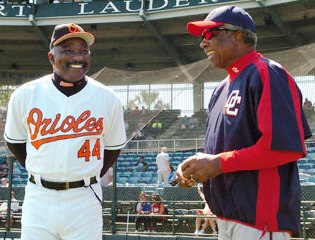 ---


Number 44 will forever be linked to bullpen coach and former catcher Elrod Hendricks (1978-2005). "Ellie" spent an amazing thirty-seven seasons in an Orioles uniform altogether, and was a goodwill ambassador and a vital link between the team and the community. Generations of O's fans were warmed by his trademark smile. During the offseason, Elrod could be found doing anything from playing Santa Claus for area children to hosting the team's Winter Cruise. In 2001, he was the first member of the Orioles Hall of Fame to be inducted while still in an active capacity with the club. After Hendricks died of a heart attack in December 2005, the team honored him by wearing his #44 on the left sleeve of their jerseys throughout the 2006 season. It also appears that they are not issuing the number for the foreseeable future. As an interesting side note, a 37-year-old Hendricks made his pitching debut in 1978, tossing two and one-third scoreless innings of relief.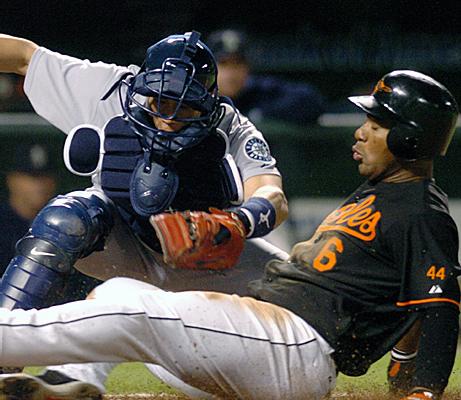 On the topic of Orioles catchers-turned-coaches we also have Charley Lau (1961-1963, 1964-1967). He had a few decent years with the bat (.294 in 1962 and .295 in 1965). Ultimately though, Lau's legacy in baseball was as a hitting coach. His spray-hitting technique was instrumental to the success of the Kansas City Royals in the 1970s, where his pupils included George Brett and Hal McRae. He also counts sluggers Mark McGwire and Frank Thomas among his devotees.

Jim Hardin (1967-1971) was a pretty good pitcher for the Birds. He shined on the mound in 1968, winning 18 games (and completing 16) with a 2.51 ERA. He had a few memorable moments with the bat as well. During a relief appearance in 1969, Hardin delivered a win for himself by belting a game-ending home run. Two months later, he went the distance and allowed just two hits in a 17-0 pasting of the White Sox; Jim also went deep in the fourth inning of that game.

Going around the horn, the other forty-fours are outfielder Tito Francona (1956-1957), father of a certain AL East manager; first baseman and future Cubs and A's manager Jim Marshall (1958); outfielder Willie Tasby (1958-1960), who once patrolled center field shoeless during a lightning storm; pinch hitter Ray Barker (1960); outfielder Lou Jackson (1964); pitcher Roric Harrison (1972), sent to Atlanta in the Earl Williams trade; lefty hurler Don Hood (1973-1974); and a young second baseman named Rich Dauer (1976-1977), who later became known for wearing #25.

---


Lefthanded pitcher Erik Bedard (2004-2007) became the best player to wear #45 for the Orioles in a short amount of time. After debuting in 2002 in #57, the young Canadian gave fans a glimmer of hope by throwing 137 league-average innings in 2004 with 121 strikeouts. He caught fire along with the rest of the team in early 2005, starting out 5-1 with a 1.89 ERA before injuries dragged him back down to Earth. He seems to get better every year, as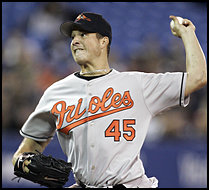 he won 28 games and losing just 16 for some pretty subpar teams in 2006-2007. In 2007 he broke Mike Mussina's Orioles record for strikeouts in a season, whiffing 221 batters in just 182 innings. Of course, Bedard's performance made him just as valuable on the trade market as he was in Baltimore, and he was dealt to Seattle for five young players to help bolster the O's rebuilding effort. His uni number was quickly taken by hard-throwing reliever Dennis Sarfate (2008-2009).

Reliever Jim Poole (1991-1994) was another O's lefty who had a few good seasons. After being picked up on waivers from Texas in May 1991, Poole was stellar, striking out 34 and allowing only 28 base runners in 36 innings. After injuries limited him to just six appearances in 1992, Jim rebounded in a major way in 1993. As the lefty specialist out of the bullpen, he sported a 2.15 ERA in 55 games (50 and one-third innings). After a brutal campaign in 1994, he was allowed to sign with Cleveland as a free agent. He would have a few more solid years before declining in the late 1990s.

Sticking with lefty relievers for a moment, Kevin Hickey (1989-1991) may have been the least likely hero on a team full of them: the 1989 Orioles. He had last been worn a big league uniform in 1983 with the White Sox before making the O's Opening Day roster six years later. He began the season wearing #23, but switched to #45 later on, with rookie Ben McDonald taking the former. Hickey's 2.92 ERA was second-best in the Birds' bullpen, trailing only rookie closer Gregg Olson. Kevin hung around into early 1991, but he wasn't able to replicate his initial success in Baltimore.

Billy Hitchcock (1962-1963) had the unenviable task of replacing the great Paul Richards as the Orioles' manager. Though the Birds had lots of young talent, they finished a disappointing 77-85 in his first season, backsliding into seventh place. It was an eighteen-game swing in the wrong direction from the previous year. Hitchcock righted the ship somewhat in 1963, but 86 wins and a fourth-place finish weren't enough to save his job. Hank Bauer took over, and chances are good that you know the rest of the story.

Two coaches have worn #45 for the Orioles: Longtime Paul Richards associate and first base coach Jimmy Adair (1957-1961) and Carlos Bernhardt (1997-1998), who was instrumental in the O's Latin American scouting and development for several years.

You may have to shield your eyes from the rest of the forty-fives. We have rookie pitcher Bill Dillman (1967); pitcher Dave "The other

other

Dave" Johnson (1974-1975); first-year reliever Tony Chevez (1977); rookie infielder Wayne Krenchicki (1979); southpaw pitcher Eric Bell (1986-1987); John DeSilva (1995), who started two games; alleged pitcher Keith Shepherd (1996); reliever Gabe Molina (1999-2000), who is not related to the catching Molina brothers; pitcher Lesli "Whoops, turns out I'm 26, and not 21" Brea (2000, 2001); and journeyman pitchers John Wasdin (2001) and Chris Brock (2002), who were traded for one another.

---


Lefthanded pitcher Mike Flanagan (1975-1987, 1991-1992) appears a lot in the Orioles' record book. Only two pitchers have thrown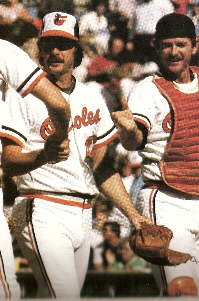 more innings in an O's uniform (Jim Palmer and Mike Mussina). He also ranks fifth in wins, with 141; he is fourth in strikeouts and complete games and seventh in shutouts. His greatest season was in 1979, when he won the Cy Young Award for the AL Champion Orioles (23-9, 3.08 ERA). As the team started to bottom out in the mid-1980s, Flanny declined as well. He was dealt to the Blue Jays in late 1987 for pitchers Oswald Peraza and Jose Mesa. But the 39-year-old Flanagan came back to the nest in 1991, and was reborn as a relief pitcher (2.38 ERA). He pitched a strong seventh inning in relief of Bob Milacki on July 13, 1991 in Oakland; eventually, it would be the fifth no-hitter in Orioles' history. Fittingly, Flanagan was also the last O's pitcher to appear in a game at Memorial Stadium, mopping up a 7-1 loss to Detroit in October. After a poor 1992 season, he hung up his spikes. Mike has remained in town through his post-playing years, serving as a TV commentator for O's games, as pitching coach (1995, 1998), and most recently, as a front office executive.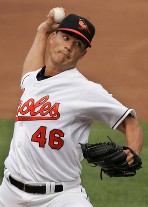 A former #1 draft pick of the Indians, righthander Jeremy Guthrie (2007-present) seemed to be mishandled by the Cleveland organization. Caught in a numbers crunch, he was snatched up by the Orioles in January 2007 at the urging of future manager Dave Trembley. Guthrie was one of the few pleasant surprises of recent years for the Birds. After starting out in the bullpen (and earning his first major league win), he was asked to step into an injury-wracked starting rotation. Once he was slotted in Guthrie never looked back, ranking among the league leaders in ERA for much of the season before wearing down late. Overall, he was 7-5 with a 3.70 ERA, and could have easily won at least fifteen games if not for poor run support and a shaky bullpen. He led the staff in wins (10) and ERA (3.63) in 2008 before having an off year in 2009. Even so, he reached the 200-inning milestone and rebounded in 2010 with 11 wins, a 3.83 ERA, and career highs of 209.1 innings and a 1.16 WHIP.


A couple of Orioles briefly wore #46 before switching to other numbers. Cerebral righthander Dave Leonhard (1967) wore the number during his September callup, and came back the next year in #40. Former Birds catcher Johnny Oates returned as Frank Robinson's first base coach (1989), and wore #46 initially. Midseason he swapped out for #26, which he wore for the next five-plus years as a coach and manager in Baltimore.



Wrapping up the forty-sixes, you'll find pitcher Don Ferrarese (1955-1956); veteran reliever Ernie Johnson (1959); outfielder Butch Davis (1989); relievers Jay Aldrich (1990) and Dorn Taylor (1990); second-generation Orioles pitcher John P. O'Donoghue (1993); reliever Jimmy Myers (1996); and former Braves closer Kerry Ligtenberg (2003), who pitched well as an eighth-inning guy in Baltimore.
---


Chances are that you've heard some of the age-related jabs aimed at lefty relief specialist Jesse Orosco (1995-1999). After all,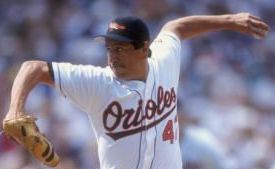 he was once traded for Jerry Koosman, who pitched for the 1969 Amazin' Mets. But Orosco's remarkable longevity was no joke; he pitched for nine teams in a 24-year career that spanned four decades (1979-2003), retiring at age 46. Late in his career, he had several very good seasons in an Orioles uniform. He posted ERAs of 3.40 or lower for four straight years before faltering in his final campaign in Baltimore. "The old Indian", as former teammate Alan Mills lovingly called him, also averaged about one strikeout per inning in the orange and black, proving that he could still baffle left-handed hitters. Before the 2000 season he was traded to the Mets for another lefty, Chuck McElroy (2000-2001); McElroy took the #47 jersey vacated by Orosco.

The veteran reliever that wore #47 immediately prior to Orosco was also no slouch. Lee Smith (1994), known for his long, leisurely strolls from the bullpen to the mound, was only in Charm City for one year. But it was a good one. The burly Smith (6'6", 225 pounds) made the All-Star team for his efforts, which included a league-leading 33 saves and an American League Rolaids Relief Award. His strong performance was cut short by the players' strike that wiped out nearly two months of the season, after which he signed as a free agent with the Angels. He would retire with 478 saves, a record that was surpassed in 2007 by Padres closer Trevor Hoffman.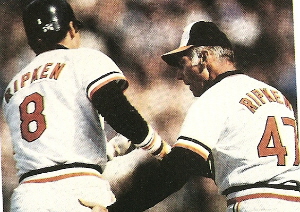 For many years, this jersey number was identified with Orioles lifer Cal Ripken, Sr. (1976-1985). "Senior" was the third base coach for eleven-plus years before getting the chance to manage the team when Earl Weaver retired a second time in 1987. After his unfortunate firing at the beginning of the 1988 season, Cal eventually returned in a coaching capacity for four more years. He wore #47 for his first decade in Baltimore before switching to #7. Cal Ripken, Jr. tells a story in his autobiography about his rookie year, when he made the mistake of referring to Cal, Sr. as "Dad". After taking a heavy dose of teasing from his teammates, Junior was sure to refer to his father as "Coach" or "Number 47" thereafter!

Three other coaches have worn #47 with the O's: third base coach and future Indians general manager John Hart (1988); former outfielder Curt Motton (1989-1991); and bullpen coach Dave Trembley (2007), who of course became the team's manager (2007-2010) after Sam Perlozzo was dismissed.

In addition to the previously-mentioned Orosco-McElroy trade, two other players have exchanged #47 by way of a trade: horrid reliever Mike DeJean (2004) and journeyman outfielder Karim Garcia (2004). Incidentally, Garcia is the only position player to wear this number for the Orioles.

The rest of the Birds pitchers/forty-sevens: one game of Bob Harrison (1955); two-gamer Tom Fisher (1967); September callup Eric Bell (1985); Brad Havens (1986), who was once traded in the Angels-Twins deal for Rod Carew; reliever Luis DeLeon (1987); wild rookie Brad Pennington (1993); young Sean Douglass (2001-2003); reliever Aaron Rakers (2004, 2005); rookie emergency starter Jim Johnson (2006); short-lived reliever Winston Abreu (2006); and rookie Jim Hoey (2006). In 2010, a pair of new Orioles wore #47. Powerful catcher/infielder Jake Fox briefly donned it before switching to #9 after Miguel Tejada departed. In September 2010 and May 2011, reliever Pedro Viola made a few forgettable relief appearances in this jersey.

---

Right off the bat, I'll tell you that #48 isn't very exciting. Starting pitcher "Fat Jack" Fisher (1959-1961) is primarily known for surrendering historic home runs. In 1960, Ted Williams hit his 521st and final home run in the last at bat of his career off of Fisher. The following year, Roger Maris of the Yankees tied Babe Ruth by hitting his 60th round tripper of the season off of the Orioles righthander. Fisher, a native of Frostburg, had his finest year in 1960. The 22-year-old went 12-11, his only winning season, and tossed 29 and two-thirds consecutive scoreless innings in August and September to finish with a 3.41 ERA.

Two Orioles coaches split time in #48 in 1968: first Ray Scarbrough (1968), then first base coach George Staller (1968-1975).

Lefty Ross Grimsley (1976-1977, 1982) was known for his big mop of curly hair. In fact, hitters used to claim that he doctored baseballs by stashing Vaseline in his hair. He probably could have used more Vaseline; after 18 wins in his Oriole debut in 1974 (while wearing #39), he averaged under 11 wins a season over the next three years.

Earl Weaver's favorite reliever Don "Fullpack" Stanhouse (1978) wore #48 when he first arrived in Charm City, before switching to #26.

A couple long-lost pitchers also donned forty-eight: Phil Huffman (1985), who had last sniffed the big time in 1979 with the Blue Jays; and reliever Mike Kinnunen (1986-1987), whose only other major league experience had come in 1980 with the Twins.

There was a sequence of prospects that never quite panned out in #48: Dominican pitcher Jose "J. J." Bautista (1988-1991); shortstop Manny Alexander (1992); and pitcher Kevin McGehee (1993). 29-year-old outfielder Bruce Dostal (1994) was finally called up to Baltimore in June of 1994, and was apparently told on two separate occasions that he would pinch-run for Harold Baines if he reached base. Baines was retired both times, and Dostal was sent back to Rochester after four days.

The last two forty-eights have been hitting coaches: Rick Down (1996-1998) and former Orioles pinch hit specialist Terry Crowley (1999-2010).

---


As you might expect with a higher number, #49 has been worn by several Orioles relief pitchers. Most of them have actually been valuable contributors. Super-sized righty Tim Stoddard (1978-1983) was the winning pitcher in Game Four of the 1979 World Series, driving in the eventual winning run with an eighth inning single in his first major league at-bat. He also saved a career-high 26 games for the Birds in 1980 to lead the team. Stoddard was followed by former Dodgers playoff goat Tom Niedenfuer (1987-1988), who topped the worst O's team of all time with 18 saves in 1988. Submariner Todd Frohwirth (1991-1993) won 17 games and saved 10 more in three years in Charm City, and his 1.87 ERA in 1991 was a team low.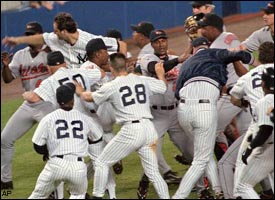 Mercurial righthander Armando Benitez (1994-1998) provided several highs and lows during his five seasons in orange and black. He did his best work in Baltimore as a setup man for Randy Myers, winning two games in the 1996 ALDS and peaking with 106 strikeouts in 73 and one-third innings in 1997. However, he came up short at the most inopportune times, allowing six runs in five and one-third innings in the Orioles' back-to-back ALCS appearances. He was instrumental in three of the team's four losses in the heartbreaking 1997 ALCS loss to Cleveland. Benitez also had a penchant for losing his cool, most famously touching off a fierce brawl with the Yankees by plunking Tino Martinez in May 1998. Sure, we all want to haul off and take a swing at a Yankee now and then, but that doesn't mean it's a good idea.

A more heartwarming story is that of bespectacled pitcher Travis Driskill (2002-2003). The minor league veteran made his big league debut with the O's at the age of thirty and made a splash by starting his career with five straight wins before settling back down to the mean. After making 20 appearances out of the Birds' bullpen in 2003, he has had a few cups of coffee in the National League.

In 1965, a rookie shortstop named Mark Belanger (1965) became the first Oriole to ever wear #49. He stuck around the following year and chose the more glamorous #7; no player would wear Mark's discarded uniform number until Stoddard in 1978.
Who else has worn forty-nine, you ask? Well, there's outfielder Stan Jefferson (1989, 1990), who had some surprising clutch hits in limited action in 1989; wandering outfielder Brad Komminsk (1990); post-Tommy John surgery pitcher Doug Linton (1999); pitching coach Sammy Ellis (2000); relievers John Bale (2001) and Darwin Cubillan (2004); and young pitchers John Maine (2004), Hayden Penn (2005-2006), and Jason Berken (2009-present), who endured a personal nine-game losing streak as a rookie and seemed to find his calling as a long reliever before an injury cut short his 2010 campaign.