Orioles #10-19

NOTE:
Years listed in parentheses represent only the years in which the player wore the listed number for the Orioles.


Shortstop Miguel Tejada (2004-2007) is unfortunately one of a rare breed these days: top-shelf free agents who are willing to play for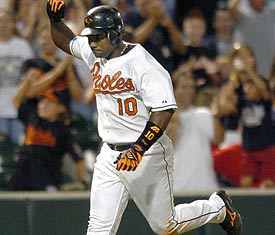 the Orioles. Whatever you may think of the intermittent trade requests or the brief appearance in San Diego that prolonged his consecutive games streak (I don't think it was a big deal, but that's another story), there's no questioning his competitive drive. Tejada wore #4 in Oakland, but the Birds had retired it for Earl Weaver. So upon arriving in Mobtown, the shortstop took the #10 that had belonged to good friend and free-swinging third baseman Tony Batista (2001-2003). After being traded to Houston, Miggy collected another couple of All-Star appearances before returning to the club in the winter of 2009-2010. He ceded #10 to incumbent Adam Jones, and wore #9 in 2010.

Newer generations of O's fans know Elrod Hendricks as #44, but when he was a catcher for the team (1968-1972, 1973-1976) he was #10. Speaking of Orioles fixtures, role player and future hitting coach Terry Crowley (1976-1982) replaced Ellie as #10 after the latter's trade to the (ugh) Yankees.

An addition to the rolls of future managers is utility player Dick Williams (1961-1962), who wore #10 in his second tour of duty in Baltimore. Williams later guided three different franchises to the World Series: the Red Sox, Athletics, and Padres. The Orioles reacquired Williams from the Athletics for another #10: Chuck Essegian (1961), who had just one pinch-hit appearance in orange and black.

After Williams, another Dick suited up in #10. Catcher Dick Brown (1963-1965) was only with the Birds for three seasons before a brain tumor forced him to retire at age thirty. Brown stayed in the Orioles organization as a scout until the tumor led to his premature death in 1970.

Another tragic story involves catcher and "bonus baby" Tom Gastall (1955-1956), whose life and career were cut short on September 20, 1956 when he piloted a plane that crashed into the Chesapeake Bay.

Promising center fielder Steve Finley burst onto the scene with the surprising "Why Not?" Orioles of 1989. However, after the 1990 season, he was traded to Houston. I'd say more, but I want to keep this page family-friendly.

A trio of third basemen who never put it all together were flea-hitting Todd Cruz (1983-1984), Leo Gomez (1991-1995), who teased the team with his power but didn't really rake until he got to Japan, and Ryan Minor (1998-2000), who was very tall and replaced Cal Ripken, Jr. on the day he ended The Streak, and that's about all that's worth mentioning.

A few well-known Orioles of the '90s wore #10 for a brief period. Outfielder Mike Devereaux returned to the team in 1996 after winning an NLCS MVP and a World Series ring with the Atlanta Braves. However, new teammate Roberto Alomar was wearing his old #12, so Devo settled for #10. In the middle of the 1997 season, designated hitter Harold Baines came home again via a trade with the Chicago White Sox, only to find Tony Tarasco wearing his #3. Harold temporarily donned #10, but Tarasco eventually took #43, freeing up #3 for Baines. Finally, appropriately-named designated hitter Geronimo Berroa switched from #29 to #10. Did you follow all of that?

Wrapping up the tens, we have first baseman Bob Hale (1959); four more catchers - Les Moss (1954-1955), Tom Patton (1957), Sergio Robles (1972), and Clint Courtney (1960), who wore the number and Paul Richards' oversized glove to catch for knuckleballer Hoyt Wilhelm in his second stint in B-more (seems to be a trend!); third baseman Billy Goodman (1957), and former Indians first-round draft pick Mark Lewis, who manned several infield positions for the O's in 2000.

In 2008, Adam Jones took on #10 while patrolling center field for the Birds, having arrived in town as the centerpiece of the trade that sent lefty Erik Bedard to Seattle. After showing flashes of excellence in his first season, he truly announced his arrival in 2009 with an All-Star nod and the team's first and only Gold Glove award of the decade.
---


The number eleven has a rich history with the Orioles, but has fallen on hard times over the past few decades. The first player to wear it for the team was catcher Clint "Scrap Iron" Courtney (1954), who hit the first home run in Memorial Stadium, struck out only seven times that season, and is believed to be the first catcher to wear glasses regularly in the major leagues. Courtney was followed by slugger Gus Triandos (1955-1962), a fixture behind the plate who still holds the team record for home runs in a single season by a catcher, with thirty in 1958.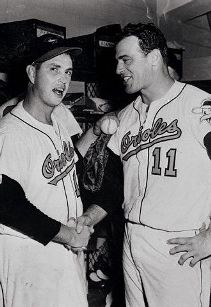 After Triandos was traded to Detroit, a Hall of Famer took up #11. Shortstop Luis Aparicio (1963-1967) only spent five of his eighteen seasons in Baltimore, but he won two Gold Gloves and anchored the middle of the infield for the club's first World Series win in 1966. He even contributed to the Birds' future success, as he was traded back to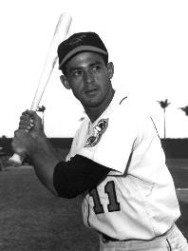 Chicago for Don Buford.

Outfielder Terry Crowley (1971-1973) wore #11 during his first go-round with the O's before spending a few years in the National League. He was supplanted by third baseman Doug DeCinces (1974-1981), who had the unenviable task of replacing Brooks Robinson on the hot corner. DeCinces' game-winning, two-run homer against Detroit on June 22, 1979 is acknowledged as the inspiration for "Orioles Magic". Doug kept the good times rolling with a home run in his first World Series at-bat that fall, although the Orioles eventually bowed to the Pirates (and their black and yellow polyester nightmares) in seven games.

When the Orioles shipped DeCinces to the Angels, the number eleven lost some of its luster. I refer you to third baseman Glenn Gulliver (1982-1983), who is great if you like alliteration. The rest of the eighties saw a run on infielders: third baseman Ron Jackson (1984), infielders Fritz Connally (1985) and Jackie Gutierrez (1986-1987), third baseman/outfielder Wade Rowdon (1988), and shortstop Juan Bell (1989). Third baseman Leo Gomez (1990) also wore #11 as a rookie.

The best of the post-Doug lot would have to be second baseman Delino DeShields (1999-2001), who had one decent year, then one incredible year before completely falling apart. But he wore the rare double earflap batting helmet and kept his socks hiked to just below the knee as a tribute to the great players of the Negro League, which would earn him bonus points if I were keeping score. He's currently barnstorming with former Red Sox pitcher Oil Can Boyd to generate interest in the Urban Baseball League, a potential independent baseball league based out of Mississippi.

Former All-Star outfielder Tim Raines is an oddity. At the age of 41, "Rock" was acquired by the team in late 2001 largely as a publicity stunt; his son Tim, Jr. was making his debut with the O's at that time. Pitcher Ryan Kohlmeier quickly relinquished Raines' preferred #30, but Tim wore #11 when he first joined the team. Another end-of-the-line veteran was former Blue Jays catcher Ernie Whitt (1991), who spent half a season in Birdland.

The name Jeffrey Hammonds (1993-1998) still touches some nerves in Baltimore. The "can't-miss" outfielder from Stanford missed - mostly, he missed games. He never played more than 118 games in his injury-plagued tenure in orange and black. On August 10, 1998 (five years to the day that an outfield collision with Mark McLemore aggravated a herniated disk), he was traded to the Reds for another fallen prospect, outfielder Willie Greene. Greene slipped right into the #11 jersey and wore it for all of 24 games before heading north to Toronto in 1999.

Three players shared #11 in 2002: infielder Mike Moriarty, at the beginning of the season; designated hitter/outfielder Howie Clark, in midseason; and shortstop Ed Rogers, at the end of the year.

A few other elevens were disappointing outfielder Luis Mercedes (1991-1993); impatient shortstop Deivi Cruz (2003); outfielder Darnell McDonald (2004); and unlucky utility player David Newhan (2004-2006), whose father Ross is a Hall of Fame baseball writer. The number was also worn by third base coach/2010 interim manager Juan Samuel (2007-2010), who often seemed to suffer from a lack of depth perception. Utility player Robert Andino hands off his #12 to Mark Reynolds in 2011, exchanging it for #11.
---


Although the Orioles started slowly as a franchise, manager Paul Richards (1955-1961) laid the groundwork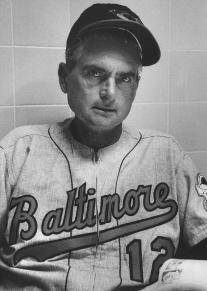 for success. "The Wizard of Waxahachie" was also the team's general manager until Lee MacPhail (father of current Orioles COO Andy MacPhail) was hired in 1959. During Richards' tenure, the team signed future stars like Brooks Robinson, Milt Pappas, and Steve Barber. Even after leaving the Birds to become general manager of the new Houston club, Richards continued helping the Orioles. According to Rob Neyer, the Wizard came bidding for young Jim Palmer's rights in 1964, and left a poor impression on the pitcher's family. With the impolite behavior of Richards fresh in his mind, Palmer wound up signing with the Orioles later that day.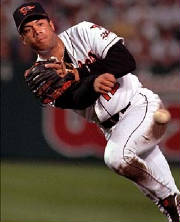 Another great #12 for the Orioles was not known for his winning personality. Second baseman Roberto Alomar (1996-1998) was key to the club's back-to-back trips to the ALCS. Regrettably, the lasting image of Alomar as an Oriole is the 1996 incident in which he spat on umpire John Hirshbeck.

Outfielder Mike Devereaux (1989-1994) was a solid contributor and a fan favorite for several years. At Arizona State University, Devo patrolled the outfield with future big leaguers Oddibe McDowell and Barry Bonds. In the majors, his best overall season was 1992, when he led the Orioles in most offensive categories, including home runs (24) and RBI (107).

Catcher John Orsino (1963-1965) was a fan favorite during his short stay in Baltimore. That probably had something to do with the 19 home runs he hit in 1963, which were nearly half of his career total!

O's fans also rallied behind diminutive infielder Lenn Sakata (1980-1985). Sakata actually started at shortstop on May 30, 1982, the day Cal Ripken, Jr. began his consecutive games played streak (Cal, of course, played third base). But the greatest game of Lenn's career came the next summer: August 24, 1983, vs. Toronto. I highly recommend clicking the link for the full story, but in short, Lenn Sakata was called upon to play catcher in the tenth inning. Thanks to his presence behind the plate, Tippy Martinez set a record by picking off three consecutive overly eager Blue Jay runners. To top it off, Lenny hit a game-winning three run homer in the bottom of the inning!

Former Dodger great Tommy Davis (1973-1975) once said, "The lazier I feel, the better I hit." As a designated hitter with the O's, he admitted to wandering into the clubhouse to shave or read the newspaper between at-bats. But you can't argue with the results; he hit .306 in 1973 and his 181 hits the next year were good for second in the AL. He was released in the spring of 1976 and another DH named Tommy took his number: Tommy Harper. He only lasted 46 games and hung up his spikes after being let go in December.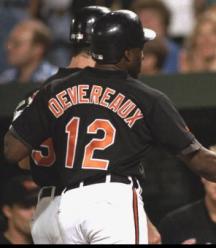 When Lee Mazzilli was hired to manage the Orioles in 2004, pitcher Rodrigo Lopez had to surrender his preferred #13. However, Mazzilli made a nice gesture before the 2005 season by returning the number to Lopez. Of his switch to #12, Mazzilli said, "This is the first number I ever wore in the big leagues (with the Mets)". Another Baltimore skipper who wore the number in his playing days was Johnny Oates (1970, 1972), who caught a few games for the team as a youngster.

One player who had a career year while wearing an orange and black #12 was journeyman third baseman Jeff Manto (1995). Manto played for eight different major league teams and twelve organizations, but stuck with the O's long enough to hit 17 home runs. Four of those round-trippers came in four consecutive at bats over two games, tying a major league record. Jeff had his #30 retired by the Indians' AAA affiliate, the Buffalo Bisons. He is currently the hitting coach of the Pittsburgh Pirates.

First baseman Will Clark (1999) chose #12 when joining the Orioles, since the #22 he'd worn in San Francisco and Texas was retired for Jim Palmer.

Restless soul Mike Morgan (1988) made the O's his fifth stop; he eventually played for a record twelve teams in a 22-year career. Contrast this with infielder Pete Stanicek (1987-1988), who switched to #17 to accommodate Morgan. Pete lasted just two seasons - 113 games - in the bigs, all with the Birds.

Rounding out the roster of twelves are original Oriole outfielder Joe Durham (1954); utility player Woodie Held (1966-1967); outfielder Dave May (1967-1970), whose son Derrick was also an Oriole; catcher Ken Rudolph (1977); infielder Wayne Krenchicki (1979); first baseman Tom Chism (1979); veteran utility player Juan Beniquez (1986); pitcher and current Aberdeen IronBirds coach Calvin Maduro (2001-2002); overmatched Rule 5 infielder Jose Morban (2003); immature fireballer Matt Riley (2004); itty bitty utility man Brandon Fahey (2006-2008); and reserve infielder Robert Andino (2009-2010). Third baseman Mark Reynolds brings his powerful (if erratic) swing to Camden Yards in 2011.
---


Superstition abounds in baseball, especially concerning the number thirteen; some teams' equipment managers actively avoid issuing it to players. But three different pitchers donned #13 for the Orioles with some measure of success. The first was Steve Barber, a Takoma Park native who was the club's first 20-game winner. The second half of his career was curtailed by arm injuries, but he did well enough to be inducted into the Orioles Hall of Fame. Doyle Alexander (1972-1976) spent the early portion of his long career in Baltimore, coming from the Dodgers in the deal that sent Frank Robinson west. Doyle pitched servicably while splitting time between the rotation and the bullpen, and was swapped to the Yankees in the huge ten-player trade that brought in Tippy Martinez, Rick Dempsey, and Scott McGregor, among others.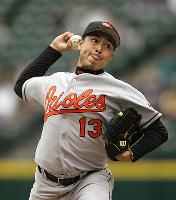 The third significant #13 in the O's all-time rotation is Rodrigo Lopez (2002-2003, 2005-2006), who came out of nowhere to lead the Birds in wins in three of his four full seasons with the team. As mentioned above, he lost his preferred number to new manager Lee Mazzilli in 2004, only to find it hanging in his locker again just before the 2005 opener. Mazzilli returned the number to Lopez as a sign of gratitude for the pitcher's contributions during a 2004 season in which he won 14 games despite being shuffled in and out of a starting role. Said Rodrigo:

"I have worn that number most of my career and it means a lot to me...I was surprised when I walked into his office and it was there. I thanked him for it."

Temperamental ex-White Sox shortstop Ozzie Guillen (1998) was one in a series of ill-conceived veteran pickups in the late nineties. For his grand total of twelve games in Mobtown, Ozzie wore the same #13 that he'd worn throughout his career. As a native of Venezuela, he wore the number to honor one of the original Venezuelan shortstops, former Cincinnati Red Dave Concepcion.

The remainder of this list is not exactly a murderer's row, so maybe there is a little something to the dark power of Thirteen. We have reliever Odell Jones (1986); power-deficient third baseman Rick Schu (1988-1989); the Mets' favorite utility guy Jeff McKnight (1990); third baseman Mike "Pags" Pagliarulo (1993); Andy Etchebarren (1996-1997), who returned as Davey Johnson's bench coach; Jerry Hairston (1998), who wore the number for his rookie season; short-lived backup catcher Mike Figga (1999); and Curacao's own, third baseman Ivanon Coffie (2000). One of my favorite out-of-nowhere Orioles, center fielder Tike Redman (2007), sported thirteen; he was followed by shortstop Alex Cintron (2008). Clubhouse cut-up Will Ohman (2010) was a good fit for #13 while toiling in the Baltimore 'pen. A former Oriole nemesis during his days as the Yankees' All-Star second baseman, Willie Randolph joins Buck Showalter's staff as bench coach in 2011.

---


"If you can't beat 'em, join 'em." Designated hitter/first baseman Lee May (1975-1980) may have been a proponent of this theory. A few years after Brooks Robinson famously robbed him of multiple hits in the 1970 World Series, May became a fixture in the middle of the Orioles' lineup. He drove in at least 99 runs in three straight seasons, but was eventually nudged aside by a young power hitter named Eddie Murray. Lee would return in 1995 as Phil Regan's hitting coach.

Another productive hitter in the Orioles' glory years was right fielder Merv Rettenmund (1968-1972). Despite only playing in Baltimore for the first half of his career, Merv did his best hitting with the O's. Noted for his pinch hitting abilities, his true legacy in baseball came as hitting coach of the Padres from 1991-1999, where he gave guidance to Hall of Famer Tony Gwynn.


Keeping with the player-turned-coach theme, we have outfielder Gene Woodling (1955, 1958-1960). He initially came to the O's in the whopping 17-player trade, but was swapped to the Indians months later. Outfielder Wally Westlake, one of the incoming players in the Cleveland deal, took Gene's #14. Interestingly, the Birds reacquired Woodling from Cleveland in April 1958 for the legendary outfielder Larry Doby, known as the first black player in the American League. They had acquired Doby the previous December in a seven-player trade with the White Sox, but he never played a game with the Orioles. Woodling put together three good years in his second stay in Baltimore, including an All-Star Game appearance in 1959. After his retirement, he was Hank Bauer's first base coach (1964-1967).

Catcher Mickey Tettleton (1988-1990) resurrected his career in Baltimore, leading the team with 26 home runs in the magical 1989 season. He will always be identified with Froot Loops, his breakfast cereal of choice during that year; Mickey claimed that they contributed to his power surge. Whether or not that was true, they were certainly less hazardous to his health than the giant chaw of tobacco that he usually kept clamped in his cheek.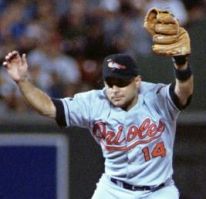 Another popular #14 was hardworking shortstop Mike Bordick (1997-2000, 2001-2002). Despite being the permanent replacement for Cal Ripken, Jr. after the Iron Man was switched back to third base, Bordick won over the fans with his solid glove and some surprising offensive production. He ended his first stint with the Birds in late 2000, heading to the Mets in a panic trade after New York lost shortstop Rey Ordonez to an injury. In return, the Orioles received two suspect minor leaguers, ho-hum Mike Kinkade, and a late-blooming shortstop named Melvin Mora. If you ever want a cheap laugh, bring up that trade with a Mets fan. Bordick is still living locally; he briefly coached varsity baseball for Boys Latin High School and is now the O's minor league offensive instructor.
The current #14 is already climbing the ranks. Hampered in the minor leagues by injuries, outfielder Nolan Reimold (2009-) made his major league debut in May '09 and never looked back, hitting his first home run in his sixth game and victimizing Yankee great Mariano Rivera to do so. In all, he walloped 15 homers in just 358 at-bats while getting on base at a .366 clip. Offseason ankle surgery and off-field issues contributed to a poor 2010 season, but he got off to a better start when the O's recalled him in May 2011.
The twelve-team wonder, pitcher Mike Morgan (1988) briefly wore #14; he may have found a kindred spirit in third baseman Todd Zeile (1996). Zeile spent a few months in Baltimore, his fourth of eleven destinations. Coincidentally, the Cubs traded Morgan to St. Louis for Zeile in 1995, which was just the beginning of Zeile's odyssey.

Some fourteens from the early years of the franchise were outfielder Don Lenhardt (1954) and catcher Ray Murray (1954); outfielder/third baseman Jim Dyck (1955-1956), and outfielders Walter "Hoot" Evers (1956) and Earl Robinson (1961-1962). Pitcher Ike Delock and outfielder Sam Bowens each wore the number in 1963.

Weak-hitting third baseman Wayne Gross (1984-1985), catcher Dave Van Gorder (1987), and outfielder Chito Martinez (1991-1993) also wore #14. In recent years, we have pitcher/punching bag Omar Daal (2003); outfielder/third baseman Jose Bautista (2004); corner infielder Jose Leon (2004); dependable infielder Chris Gomez (2005-2007); rookie infielder Eider Torres (2008); and fourth-or-fifth-outfielder type Lou Montanez (2009).
---


Pitcher Hoyt Wilhelm (1958-1962) was a stabilizing force on the "Baby Birds" staff. Although the ageless knuckleballer spent most of his career in the bullpen, manager Paul Richards gave him 45 starts in four-plus years. He made one such start count, throwing the first no-hitter in Orioles history against the vaunted Yankees on September 20, 1958. The next year, he tossed 8 and 2/3 innings of hitless relief against the White Sox before finally allowing a hit in the 17th inning. Only Boston's Ernie Shore (9 perfect innings in 1917) had a better performance as a reliever.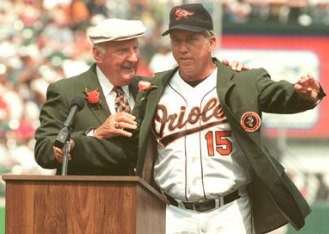 Davey Johnson (1966-1972) anchored second base during the Orioles' best years. He won three straight Gold Gloves for the O's, but was traded to the Braves with three other players for loafing catcher Earl Williams. Davey went on to hit 43 home runs in his first season in Atlanta, but on the bright side, his departure gave Bob Grich a chance to crack the lineup. Johnson of course returned to pilot the Birds to back-to-back appearances in the ALCS (1996-1997), but miscommunication with a certain stubborn owner cut his managerial tenure short. Let's move on, shall we?

First baseman Kevin Millar (2006-2008) refused to be ignored. The scruffy, ebullient Millar added character to a team that had been pretty dreary before his arrival, and even attempted to buck management with his "Beards for the Birds" campaign. To commemorate his tenth year in the majors, Kevin's wife bought him a Porsche with his #15 on the license plate. Said Millar: "She knows 1-5 loves some 1-5." The first post-Millar Oriole to wear the number was phenom catcher Matt Wieters (2009), who settled for those digits out of deference to just-released reliever Jamie Walker, who had worn his preferred #32. Wieters thrilled fans by batting .288 with steadily improving power and defense in his rookie year, and announced in the offseason that he would indeed switch to #32 in 2010. His old number was taken by his new backup, Craig Tatum (2010-).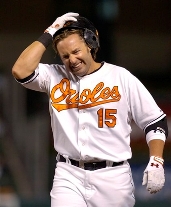 "Disco" Dan Ford (1982-1985) was on the downside of his career when he came to the Orioles, but he had a knack for hitting some timely home runs. His eighth-inning round-tripper was the team's only base hit in a 1-0 win vs. Chicago on May 18, 1983. Two months later, he hit three dingers in a 4-2 win over Seattle; the win boosted the Orioles into a tie for first place in the AL East. Finally, Ford homered in the Orioles' Game Three World Series win against the Phillies.

Second baseman Jerry Hairston, Jr. (1999, 2001-2004) never quite delivered on his promise, mostly due to an inability to stay healthy. Jerry was traded to the Cubs for Sammy Sosa, which probably seemed like a good idea at the time. (I've repressed my memories of Sammy.) He wore #15, the same number that his father wore for his last season with the White Sox in 1989.

Another second generation player was catcher Terry Kennedy (1987-1988). His father Bob played for the Birds in 1954 and 1955, wearing #33 and #40. Despite being on some historically bad O's teams, Terry was named to the All-Star team in 1987.

In the early years, there was outfielder Sam Mele (1954); ex-Yankees pitchers Bob Kuzava (1954-1955) and Ed Lopat (1955); and pitcher George Werley (1956), whose career spanned one inning.

The also-ran fifteens include shortstop Frank Baker (1973-1974), not to be confused with the Hall-of-Fame Athletics' third baseman; little-used catcher Royle Stillman (1975-1976); and outfielder Mark Corey (1979-1981). There was also reserve catcher Jamie Quirk (1989); powerful designated hitter and Red Sox "legend" Sam Horn (1990-1992); decaying pitcher Doug Drabek (1998); and infielder Jesse Garcia (1999). In 2005, the number pinballed from outfielder Ramon Nivar to eternal AAA catcher Eli Whiteside to the "Human Crash Test Dummy", outfielder Eric Byrnes (2005).

Two coaches wore #15 back-to-back for the Orioles: first base coach Davey Lopes (1993-1994) and bench coach Chuck Cottier (1995).

---


Scott McGregor (1978-1988) was a mainstay of the Orioles' starting rotation for a decade. His shining moment came in Game Five of the 1983 World Series, when he twirled a five-hit shutout to bring the championship back home to Baltimore. Scott is currently the pitching coach of the AA Bowie Baysox, where he wears his familiar #16. He chose the number as a player to honor his idol, Yankees lefty Whitey Ford.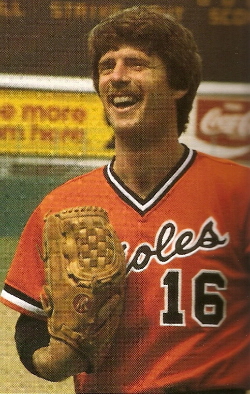 The number sixteen was worn by several Orioles stars who achieved their fame with another number on their backs. As previously mentioned, second baseman Bobby Grich (1970-1972) sported the number as a young player before ultimately going with #3. In addition to #30, Boog Powell also wore #16 as a young outfielder (1962-1963) before settling in as #26 at first base. When Brady Anderson arrived from Boston in the Mike Boddicker trade in late 1988, he too wore #16. In 1989, he switched to #9 and the rest is history.

Bridging the gap between Grich and McGregor were pitcher Mickey Scott (1972-1973) and first baseman Tony Muser (1975-1977). Muser later went on to manage some miserable teams in Kansas City.

Veteran outfielder Al "Fuzzy" Smith (1963) achieved fame as a powerful outfielder with the Indians, where he developed his attachment to #16. He started out wearing #32 with the Tribe, but got stuck in a rut early in the 1955 season. The third-year player went nearly two weeks without an RBI in June, his total frozen at 32. Noticing the eerie confluence of the numbers, Smith requested a switch. One June 16 (another coincidence?), he changed to #16 and drove in two runs. He would end the year with 77 RBI, and finished third in MVP balloting. He kept his new uniform number for the majority of his career.

In the late 1960's, number sixteen took a fascinating path. Outfielder Sam Bowens (1964-1967) hit 22 of his 45 home runs as a rookie, tying the Orioles' rookie record at the time. Pitcher Bruce Howard (1968) was the next #16. His birthday was March 23, 1943 - four years to the day after Bowens was born! After only two months in Baltimore, Howard was sent to the Senators for outfielder Fred Valentine (1968), who slipped into Howard's uni number.

Sixteens from the team's first decade include outfielder Gil Coan (1954); pitchers Erv Palica (1955-1956), Art Ceccarelli (1957) and George Bamberger (1959); pinch hitter Eddie Miksis (1957); second baseman Marv Breeding (1960); and outfielder Jim Busby (1960-1961), during his second stay in Mobtown.

Oddly enough, fleet outfielder Phil Bradley (1989) was the last Oriole to wear #16 until 2001, when pitcher Jason Johnson gave up his #41 to new teammate Pat Hentgen. Johnson then kept #16 through 2003, when he left for Detroit. After all that inactivity, the number sixteen was worn by three players in 2004: pitchers Denny Bautista and Jason Grimsley, who were traded for one another; and outfielder Tim Raines, Jr., who claimed it when Grimsley switched to #38. Young outfielder Jeff "Screech" Fiorentino donned #16 in 2005 and 2006. Because he bounced between the majors and minors during those years, Jeff actually shared his number with another player in each season: just-passing-through outfielder Eli Marrero (2005) and outfielder Ed Rogers (2006). The number was worn by outfielder Jay Payton for two underwhelming seasons (2007-2008), and then became the property of perfectly serviceable second catcher Chad Moeller (2009). Lou Montanez (2010) had fourth stints here in three seasons, and #16 was his fourth number. His replacement in those digits is Jim Presley, who is the first new O's hitting coach since the 1990s.
---


Third baseman/outfielder B. J. Surhoff (1996-2000, 2003-2005) wore #17 with the Birds, since the #5 he wore in Milwaukee was retired for Brooks Robinson. Surhoff was one of the most intense competitors to ever put on an Orioles uniform, and he had a true connection with Baltimore. I'll never the press conference right after B. J. was traded to Atlanta in 2000, when he broke down crying. He was no slouch with the bat either, hitting .279 or better in all but his last season with the team.

When B. J. returned to the O's in 2003, catcher Geronimo Gil (2002) gave up #17, switching to #9 for the rest of his time with the team. Another catcher who donned #17 early in his career was Chris Hoiles (1989).

Pitcher Wayne Garland (1973-1976) was the original cautionary tale when it came to lavish free agent contracts. In his final year with the Orioles, he seemed destined for stardom, winning 20 games and completing 14. Understandably, Wayne chose to hit the free-agent market and signed a jaw-dropping 10-year, $2.3 million contract with the Indians. Five years, 28 wins, and 48 losses later, Cleveland cut their losses and ate the rest of Garland's contract.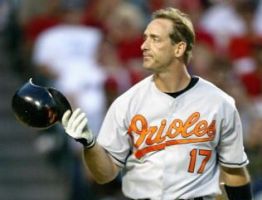 Blazing-fast center fielder Corey Patterson (2006-2007) wore #17 for his two seasons in Baltimore; the #20 that he wore for most of his Cubs career had of course been retired for Hall of Famer Frank Robinson.

A handful of pitchers have worn this number for the Birds. Among them are lefty Bill Wight (1955-1957), who was acquired in a trade for the previous #17, outfielder Hoot Evers (1955); John Miller (1962-1963, 1966-1967), who is not Jon Miller; barely-used Mike Adamson (1967-1969); Ed Farmer (1977); Pete Harnisch, who switched from #42 to #17 in 1990; and the mulleted Paul Kilgus (1991).
Two Orioles pitching coaches wore #17. Ken Rowe wore it as a pitcher for the Birds in 1964 (he wore #35 and #42 as a coach in the 1980s). Dick Bosman (1992-1993) wore the number early in his tenure on Johnny Oates' staff.

Among the first few players to wear this number for the Birds are outfielder Jim Fridley (1954); outfielder/third baseman Leo Burke (1958); and shortstop Chico Carrasquel (1959), who was the first Latin American All-Star in the American league.

Around the horn, we also find first baseman and ex-Red Sox slugger Walt Dropo (1960-1961); bespectacled catcher Joe Nolan (1982-1985); third baseman Tom O'Malley (1985-1986), who later became a star in Japan; second baseman Rick "the Rooster" Burleson (1987); second baseman/outfielder Pete Stanicek (1988); Rec-Specs-clad third baseman/outfielder Chris Sabo (1994); outfielder Kevin Bass (1995), and utility player Mike Kinkade (2001).
At the beginning of 2008, designated hitter/first baseman Aubrey Huff switched from #19 to #17 to honor the memory of his friend and former Tampa Bay teammate Joe Kennedy, who died of hypertensive heart disease in November 2007. Kennedy had worn #17 with the Rays in 2002 and 2003. Huff responded to the switch with a monster year, hitting .304 with 48 doubles, 32 home runs, 108 RBI, and a Silver Slugger award as the league's best-hitting DH. Huff slumped big-time in 2009, and was traded to the Tigers for the stretch run. Highly touted young pitcher Brian Matusz (2010-present) chose #17 as a tribute to his favorite childhood player, former Cubs first baseman Mark Grace. He got some consideration for Rookie of the Year in 2010 with a 10-12 record and a 4.30 ERA, which included marks of 7-1, 2.18 from August-October.
---

The number eighteen has changed hands several times in Orioles history. This tradition began in the team's inaugural season, when pitcher Dick Littlefield (1954) was sent to the Pirates for outfielder Cal Abrams (1954-1955). Abrams grabbed the #18 jersey that Littlefield had vacated.

After Abrams, there were a succession of pitchers that wore #18. Former Dodger Billy Loes (1957-1959) was followed by reliever Wes Stock (1960-1964) and former Yankees World Series hero Don Larsen (1965). Larsen attempted to make amends for his hideous 3-21 W-L record with the 1954 O's by pitching effectively out of the bullpen in his second turn with the club (2.67 ERA).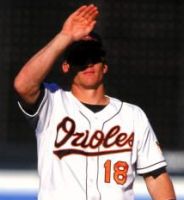 A lackluster group of players ensued: first baseman Mike Epstein, for six games in 1966; Al Severinsen, who pitched in twelve games in 1969; and unpolished outfielder Jim Fuller (1973-1974).

Popular platoon outfielder Pat Kelly (1977-1980) was best known for his deep religious convictions. However, he was also one of the heroes of the team's 1979 ALCS, belting a three-run home run in the deciding game of the series.

Home runs were the specialty of outfielder/designated hitter Larry Sheets (1984-1988). In 1987, he had one of the great fluke seasons of all time, bashing 31 round-trippers to go with a .316 batting average. He also had a glorious, Magnum P. I. - esque mustache.

Righthanded pitcher Bob Milacki (1989-1992) had a few solid if unspectacular years in the Orioles' starting rotation. On July 13, 1991, he was the winning pitcher in the Birds' last no-hitter to date, a 2-0 win over Oakland. He pitched six innings, and then turned the game over in turn to Mike Flanagan, Mark Williamson, and Gregg Olson.

Second-generation Orioles outfielder Damon Buford (1993-1994) wore #18. His father Don wore #9 with the O's, which is of course one-half of eighteen.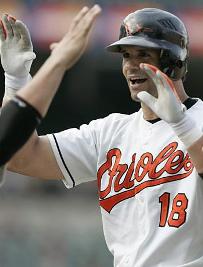 Veteran center fielder Andy Van Slyke (1995) ended up just passing through Baltimore, collecting only 10 hits in 17 games before being shipped to the Phillies. He did wear his familiar #18 for those few games, as he had previously in St. Louis and Pittsburgh.

Manager Davey Johnson brought one of his former Mets players to Baltimore as a first base coach: John Stearns (1996-1997).

Outfielder/first baseman Jeff Conine (1999-2003) had worn #19 for his entire career when he arrived in Mobtown. Maybe it has something to do with his name having a "nine" in it, or maybe that's a reach. But pitcher Scott Erickson already had #19 on the O's, so "Niner" dropped down to #18. He was a consummate professional and a reliable run producer on some abysmal teams. He was rewarded for his toils when the Birds sent him back to the Marlins in late 2003, giving him a chance to contribute to the eventual World Champions.

Another free agent acquisition who settled for #18 was catcher Javy Lopez (2004-2006), whose preferred #8 perpetually belongs to Cal Ripken, Jr. "I knew, I knew right away it wasn't available", Lopez laughed after signing with the team. The honeymoon didn't last, and near the end of his contract he was shipped out to Boston. Lopez was replaced on the roster by well-traveled catcher Chris Widger (2006), who also replaced Javy in the #18 jersey. Keeping the #18 behind the plate was another all-glove no-hit backstop, Alberto Castillo (2007). Rookie pitcher Garrett Olson (2008) donned the number for his second tour of duty in Baltimore, following a big league debut in #57. The following offseason, Olson was traded to the Cubs for speedy outfielder Felix Pie, who assumed the number himself (2009-present) and made history as only the fourth player in team history to hit for the cycle when he did so in mid-August of '09.
---


Dave McNally (1962-1974) was the best lefthanded pitcher in Orioles history. He won seventeen consecutive games between 1968 a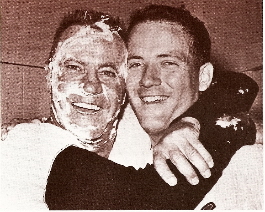 nd 1969 (181 total as an Oriole), and saved his best for the postseason. He won four World Series games, including Game Three in 1970, in which he hit a grand slam to help his own cause! McNally's lasting impact on baseball came off the field, though. He and the Dodgers' Andy Messersmith became the first two free agents, thereby breaking the reserve clause and making veteran players less vulnerable to the whims of ownership.

According to The Sporting News, the Orioles traditionally took a number out of circulation to honor significant players who retired or moved elsewhere. Post-McNally, no Oriole wore #19 until outfielder Fred Lynn (1985-1988) joined the team. He'd worn the number for nearly his entire career in Boston and California. When the O's traded Lynn to the Tigers, outfielder/designated hitter Larry Sheets (1988-1989) grabbed the number.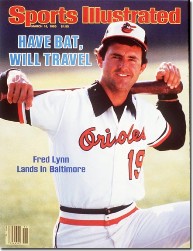 With Sheets gone, highly touted rookie pitcher Ben McDonald (1990-1995) switched from #23 to #19. I remember spending my adolescence agonizing over the Birds' decision to draft Big Ben with the first overall pick in 1989 when Frank Thomas was available. Frank Thomas was the most awesome baseball player who ever lived, if you were a middle schooler in the mid-90s. Though he never turned the corner, McDonald did have his moments, winning at least thirteen games in three consecutive seasons.

Another talented righty pitcher joined the Orioles in 1995. Scott Erickson (1996-2002) had worn #19 with the Twins, but settled into #21 at first. With McDonald pitching in Milwaukee in 1996, Scott reclaimed his old number. Scott was an effective pitcher for the O's for five years, and then his arm practically fell off. On the bright side, he was named one of People magazine's 50 Most Beautiful People in the World in 2000.
To date, fellow righthander Koji Uehara (2009-present) has also struggled to stay healthy. However, he did make team history as Baltimore's first Japanese-born player, and performed well as the team's closer in the second half of 2010. He did not issue a walk in his last 32 appearances that year.
Jumping back in time, the players who kept nineteen warm for McNally were outfielder Dick Kokos (1954) and a quartet of pitchers: Don "Portland Vice" Johnson (1955), Morrie Martin (1956), former Terp Lou Sleater (1958), and Gordon Jones (1960-1961), who was part of a 1956 nine-player trade between the Cardinals and Giants. Also involved in the trade were one-time Orioles Jackie Brandt, Whitey Lockman, and Dick Littlefield.

As mentioned earlier, pitcher Rodrigo Lopez (2004) moved on up to #19 when new manager Lee Mazzilli took his #13. Reliever James Baldwin started 2005 with the O's, spent a month with the Rangers in the middle of the season, and when he returned for a second go-round, found his #23 occupied by first baseman Alejandro Freire. Baldwin wore #19 until a switch could be engineered. When outfielder/first baseman Jeff Conine (2006) rejoined the team, he finally found his preferred number available. First baseman/designated hitter and Devil Rays killer Aubrey Huff (2007) wore nineteen for his first season in orange and black before switching to #17 (see above). In June 2008, infielder Oscar Salazar got the call from AAA Norfolk and became the fifteenth Oriole to wear #19, hitting his second and third major league home runs six years after clubbing his first.