Orioles #50-59
NOTE:
Years listed in parentheses represent only the years in which the player wore the listed number for the Orioles.


As we move into the fifties, players are getting scarcer. No one wore #50 for the Orioles until rookie pitcher Fred Beene (1968) made his debut, pitching one inning in September 1968. He would wear #33 in 1969 and 1970, appearing in six more games before being traded to the Yankees. After Beene, #50 would lay dormant for another two decades. Righthander Jay Tibbs (1989-1990) had the finest season of his career shortened by injury, but went 5-0 with a 2.82 ERA in 1989 in the ten games that he did pitch. Shortly after Tibbs was traded to the Pirates, fellow righty Anthony Telford (1990, 1991, 1993) took up the big 5-0. Telford never gained a foothold on the O's staff, but eventually re-emerged as a dependable bullpen arm in Montreal.

Just for giggles, I'm going to give veteran pitcher Sid Fernandez (1994-1995) his own paragraph. He was a native of the 50th state to join the USA (Hawaii) and a big fan of the old

Hawaii Five-0

TV series, hence his choice of uniform number. The hefty lefty was signed away from the Mets with expectations as high as his salary, but to call him a disappointment would be an understatement. "El Sid" surrendered an astounding 27 home runs in just 115 and one-third innings in his first campaign in Camden Yards, a feat largely responsible for his 5.15 ERA (which exceeded his career ERA by nearly two full runs). Though he dropped 37 pounds in the offseason, per team orders, Fernandez was even worse in 1995: 0-4, 7.67 ERA, 9 home runs in 28 innings. After being shunted to the bullpen, he famously told the

Washington Post,

"

You just won't see me...I'll be gone with the wind, and that's it." It wasn't much longer before the Birds cut their albatross loose, absorbing the last year and a half of his contract.




After turning heads in a short stay with with the O's in 1995 (as #60), 23-year-old hurler Jimmy Haynes (1996) took his lumps in his first full season in the majors. Splitting time between the rotation and the bullpen, he gave up two base runners per inning. Haynes was sent back to AAA Rochester at the start of the 1997 season, and would finish the season in Oakland after being traded for designated hitter Geronimo Berroa. Catcher Mel Rosario (1997) got his three at-bats in the major leagues in the #50 jersey. In rookie fireballer Ryan Kohlmeier (2000), the Orioles thought they had their closer of the future. He saved 13 games in 14 opportunities late in his debut campaign, but regressed as a sophomore and never returned to the bigs.

Speaking of young closers, Venezuelan native Jorge Julio (2001-2005) seemed to have arrived in 2002, when he saved 25 games with an eensy (yes, eensy) 1.99 ERA. Though he saved 58 more games over the next two seasons, Julio was anything but reliable. His ERA skyrocketed and he often lost his composure when he was most needed. The Orioles finally replaced him with overpowering lefty B. J. Ryan, but Jorge was even worse as a setup man. Baltimore finally had enough and packaged him with pitching prospect John Maine for Mets starter Kris Benson.

Recent additions to the ranks of the fifties include journeyman lefty John Halama (2006), first base coach Sammy Mejias (2007), bench coach Dave Jauss (2008-2009), and hulking but hittable reliever Frank Mata (2010).

---


Lefty pitcher Don Ferrarese (1957) kicks off the fifty-ones, making his third and final appearance on these pages. He wore the number during his final season in Baltimore before being traded to Cleveland in the Gene Woodling/Dick Williams deal. Eighteen years later, rookie outfielder Larry Harlow (1975) became the second Oriole to wear the #51 jersey. He was followed by a couple rookie pitchers: Don Welchel (1982-1983) and Jose Mesa (1987). Mesa would return to the minors for seasoning, and when he reemerged in Charm City in 1990, he was given #52. Next came righthander Brian Holton (1989-1990), acquired from the Dodgers in the Eddie Murray trade. He proved mediocre, and was finished in the major leagues after his second season in orange and black. Auburn grad Stacy Jones (1991) got his first taste of major league experience with four games at age 24...and waited five more years before the White Sox threw him in two games.

Ageless lefty Jamie Moyer (1993-1995) resurrected his career in Baltimore. Due to injuries, he had not won a major league game since 1990 when the Birds recalled him from Rochester in May 1993. By season's end, Moyer had tied his career high in wins (12) and set new personal bests in ERA (3.43) and walks and hits per inning pitched (1.26). Moyer slipped over the next two years, winning just 13 games total, and signed as a free agent with Boston for 1996. Since then, he's become one of the smartest and most consistent starters in the league, and has a decent shot at 250 career wins.

Weeble-shaped reliever Terry Mathews (1996-1998) quickly became a whipping boy for O's fans, his performance gradually worsening as time passed. He didn't allow a run in five innings in the 1996 postseason, but was touched up for two runs in his only inning of work in the 1997 playoffs. He was released after racking up a 6.20 ERA in the first half of 1998. His place was taken by journeyman reliever Heathcliff Slocumb (1999), who was actually much worse. He lasted all of eight and two-thirds innings, allowing 24 hitters to reach base. Later that year, rookie Brian Falkenborg (1999) took on #51 and didn't allow a single run. Sure, he pitched three whole innings, but it was a vast improvement nonetheless.

Offensively deficient catcher Fernando Lunar (2000-2002) was acquired as a throw-in when the Orioles sent B. J. Surhoff to Atlanta. He terrorized the league for a total of 43 hits in 75 games with the Birds.

Sadly, rookie pitcher Steve Bechler (2002) had his time in an Orioles uniform cut short. The tall righty collapsed during spring workouts on February 17, 2003 and died shortly thereafter. The cause of death was multisystem organ failure caused by a heat stroke. Bechler was taking an ephedra-based supplement at the time, which was likely a major factor in his death. If anything positive came out of this tragedy, it did raise awareness of the harmful effects of ephedra. Meanwhile, the Orioles kept #51 out of circulation for three years following Bechler's death.

The remainder of the fifty-ones are all relief pitchers: erratic Eddy Rodriguez (2006); injury-prone Scott Williamson (2007); former Brewer Victor Santos (2007); and rookie Randor Bierd (2008), who chose #51 because it was purportedly his lucky number. It wasn't so lucky for former Cubs southpaw Rich Hill (2009), who allowed 109 base runners in 57.2 innings before a torn labrum brought a merciful end to his O's career. Another lefthanded pitcher making the jump to the American League is The Cobra, reliever Mike Gonzalez (2010-present).
---


There are a couple standouts among the fifty-twos. Righthander Mike Boddicker (1980, 1981-1988) was the Orioles' pitcher of the
1980s. In his first full season with the team, the Iowa native finished third in Rookie of the Year voting on the strength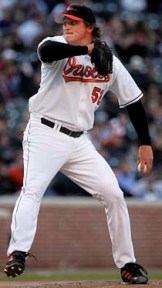 of his 16-8 record, 2.77 ERA, and 1.08 WHIP. But he saved his best for the postseason, winning the ALCS MVP with a five-hit, fourteen-strikeout performance in Game Two. Mike topped it all off by going the distance for a 4-1 win in Game Two of the World Series. All he did for an encore was lead the league in wins (20) and ERA (2.79) in 1984, with an impressive 16 complete games. When the O's bottomed out in 1988, they traded Boddicker to the Red Sox. He boosted the team one last time, as they received Curt Schilling and Brady Anderson in return.


Overpowering reliever B. J. Ryan (1999-2005) worked his way up the ladder in the Orioles' bullpen. The 6'6" lefty utilized a blazing fastball to strike out nearly eleven batters per nine innings during his stay in Charm City. He excelled as a setup man in 2004 (2.28 ERA), and finally got a shot at the closer's role in 2005. Ryan thrived under pressure that year, saving 36 games and being named to his first All-Star team. When Toronto came calling with a huge free-agent contract, he just couldn't refuse. A few years later, ex-Mariner lefty George Sherrill (2008-2009) took over Ryan's former number and his former bullpen role. The self-styled "Brim Reaper" (a nod to his trademark flat-billed cap) was Baltimore's lone All-Star in 2008 and was having a career year the following season when he was traded to the Dodgers for two prospects. In all, he saved 51 games in a season and a half for the Birds.

Shortly after Sherrill's departure, the previous year's first-round draft pick Brian Matusz (2009) made his major league debut in #52. The 22-year-old pitcher won five of his eight starts and seemed to learn more every time he took the mound, creating high hopes for the future. However, he switched to #17 in 2010, a tip of the cap to his childhood hero, Mark Grace of the Cubs. Gary Allenson (2010) left his post as manager of the AAA Norfolk Tides to fill in as third-base coach after Juan Samuel was named interim manager. Another coach, Mark "Goose" Connor, nabs this number as he counsels the pitchers in 2011.


The supporting characters in #52 are rookie shortstop Bob Bailor (1975); southpaw pitcher Earl Stephenson (1977, 1978); first-year pitcher Bob Milacki (1988); reliever Mark Huismann (1989); erratic hurler Jose Mesa, a.k.a. "Joe Table" (1990-1992); lefty reliever Mark Lee (1995); pitcher and Takoma Park, MD native Garrett Stephenson (1996); rookie corner infielder Willis Otanez (1998); debuting pitcher Chris Fussell (1998); super-sized reliever Chris Britton (2006); former Cubs righthander Jon Leicester (2007); and bespectacled rookie reliever Cory Doyne (2007).

---


Relief ace Sammy Stewart (1978-1985) was as talented as he was troubled. The righthander made his presence known immediately by striking out seven straight White Sox batters in his debut, earning a 9-3 win. His best season was cut short by the midseason player strike in 1981, but the abbreviated schedule did allow him to qualify for the ERA title, which he won with a career-low 2.32 mark. Sammy saved his best work for the postseason. In twelve total innings in one ALCS (1983) and two World Series (1979 and 1983) he did not surrender a run. Sadly, the strong righthander became hooked on crack cocaine after his career ended, and has spent the past two decades losing money, family, friends, and homes to the habit. He has been arrested 26 times during that span, and is currently serving eight years and nine months in a North Carolina prison.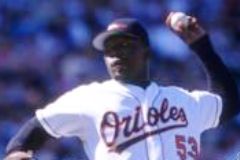 Lefthander Arthur Rhodes (1991-1999) found his true calling as a "vulture" type reliever, swooping into games in the middle innings and picking up or securing wins when the starters faltered. Early in his career, Rhodes struggled as a starting pitcher, until manager Davey Johnson arrived in 1996 and switched him to the bullpen. The southpaw responded by snatching up nineteen wins over the next two seasons and striking out more than a batter per inning, proving to be a crucial part of back-to-back playoff teams. After a down year in 1999, the O's allowed him to jump to Seattle as a free agent.



The first Oriole player to wear #53 never even played a game with the team. Southpaw pitcher Mike Willis (1975) was a September callup after winning fourteen games with a 2.58 ERA at AAA Rochester. But with the Birds chasing the first-place Red Sox all month long, Earl Weaver didn't see fit to break Willis in the hard way. A year later, he was claimed by the Blue Jays in the expansion draft, and would pitch for parts of five seasons north of the border.

The few others in the selective #53 club are Canadian pitcher Dave Pagan (1976); fifteen-game loser Jay Tibbs (1988); young lefty John Parrish (2000, 2001), who lost a close game to Roger Clemens but struck out nine Yankees in his debut; 29-year-old rookie first baseman/designated hitter Carlos Mendez (2003); journeyman reliever Todd Williams (2004-2006); and submarine-style pitcher Chad Bradford (2007-2008), who has spent most of his career wearing digits that sum up to his favorite number, eight. Bradford wore 44 with the White Sox and 53 with the Athletics, Red Sox, Mets, Orioles, and Rays. Sean Henn (2009) made six forgettable relief appearances in September for the Birds, who had acquired him from the Twins after he'd already been sent home at the conclusion of AAA Rochester's season! Lefty specialist and minor league vet Alberto Castillo (2010) made #53 his third number after previously donning #23 and #24. The latest of the Orioles' highly regarded pitching prospects is Zach Britton, who debuted in #53 in the first weekend of 2011.
---


Believe it or not, the first Orioles player to ever wear #54 was pitcher John Habyan (1985-1987), who wore the number for the first three years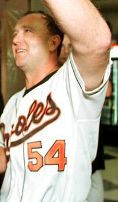 of his career before switching to #27. Habyan started only 18 games in his eleven-year career; 13 of them came in 1987 when he won a career-high six games. He was joined years later by a former Atlanta Brave, reliever Lance Cormier (2008). Young pitcher Chris Tillman (2009) made his Baltimore debut in #54 but switched to #24 in his second season. Troy Patton (2010) was twice summoned from AAA Norfolk in the summer months and handed this jersey without throwing a single pitch. Later that season, fellow righthander Rick Vanden Hurk (2010) became the first Netherlands-born player to suit up for the Birds.
Two coaches have donned #54 for the O's: hitting coach Ralph Rowe (1981-1984); and pitching coach Leo Mazzone (2006-2007), who was unfortunately unable to translate his successful run with the Atlanta Braves to Baltimore.

The man that surrendered the fifty-four jersey to Mazzone was Sam Snider (1988?-2005). Snider was the longtime bullpen catcher for the Orioles, responsible for warming up pitchers and throwing batting practice. He toiled in relative anonymity for two decades, but must have been well-liked to stay around for so long. I remember the players voting him a share of the bonus money they received for making the playoffs in the late Nineties.

---


Former Orioles shortstop Billy Hunter (1964-1977) returned to the team as one of Hank Bauer's coaches. He manned the third-base box until June 1977, when he was hired as the Rangers' manager. After a year and a half with mixed results, he was fired by unpredictable Texas owner Bob Short. Hunter would go on to coach the baseball team at Towson State University, where he also served as athletic director.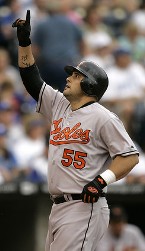 Pitcher Nelson Briles (1977) wore #55 for four games in September following his purchase from Hunter's Rangers. He finished his career the following year wearing #34 for the O's. After Briles, the next Oriole to wear #55 was another righthanded pitcher, rookie Richie Lewis (1992). The following year, Mike Cook (1993) pitched three scoreless innings for the Birds. The minor league veteran and former Angels' #1 pick hadn't appeared in a major league game since 1989 with the Twins. Cook was proceeded by two more righty pitchers, both rookies: Scott Klingenbeck (1994, 1995), who was sent to Minnesota for Scott Erickson; and Jim Dedrick (1995), who was lucky enough to have his cup of coffee coincide with Cal Ripken's run to 2,131.

Outfielder/designated hitter Pete Incaviglia (1996) arrived from the Phillies to provide power off the bench during the pennant race. He also became the first position player to wear the double-five in Baltimore. Inky switched to #29 the next year, and his previous number passed on to yet another righthanded pitcher, former Astro Brian Williams (1997). Southpaw Doug Johns (1998-1999) pitched servicably for the Birds, winning nine games while working primarily in relief.

Two coaches followed in #55: bench coach Jeff Newman (2000) and bench coach/third base coach Tom Trebelhorn (2001-2005).

When catcher Ramon Hernandez (2006-2008) signed with the O's, Trebelhorn switched to #26. Hernandez paid immediate dividends, hitting .275 with career highs in home runs (23) and RBI (91) in his first season in orange and black. After an injury-plagued 2007 and a disappointing year both offensively and defensively in 2008, he was traded to the Reds to clear a path for wunderkind Matt Wieters. The player who followed Ramon in the double-fives, late-season bullpen arm Chris Lambert (2009), was a mere footnote. Alfredo Simon (2010, 2011) also looked like a footnote after undergoing Tommy John surgery in 2009, but a year later he became the O's closer in a pinch. Injury troubles eventually cost him the role, and tragically he played an as-yet undetermined role in the fatal shooting of his cousin in the Dominican Republic on New Year's Day 2011. In his stead, pitcher Chris Jakubauskas (2011) became the latest #55 - five for each of the 11 letters in his last name. Simon was released from jail and rejoined the Birds in May 2011, while Jakubauskas was back at AAA Norfolk.
---


Righthanded pitcher Mike Oquist (1993, 1994, 1995) had the honor of being the first Oriole to wear #56, and that's about all that distinguishes him. Second-year pitcher Esteban Yan (1997) wore the number for nine and two-thirds disastrous innings. Catcher Willie Morales (2000) donned #56 for a September callup, as did rookie pitcher Rick Bauer (2001). Lefty Kurt Birkins (2006) made his mound debut in the number, but eventually swapped it for #25. The most recent occupant was another southpaw, Brian Burres (2006-2008). Burres showed some promise in his first full season with the team, notching four of his six wins against playoff teams. Most notable was a July 28 game in which he out-dueled 300-plus game winner Roger Clemens by striking out seven Yankees in six innings. But the soft-tosser never consistently fooled major league hitters, and was gone from Charm City by 2009.
---


Twenty-eight year old lefty Jeff Schneider (1981) got a brief taste of the big leagues as a late-season addition to the Orioles; he also broke in #57 for the team. He was succeeded by minor league veterans and righty pitchers John Flinn (1982); Tony Arnold (1986-1987); and former second-round draft pick Brian Sackinsky (1996).

The O's attempted to make a splash by trading for former Blue Jays All-Star pitcher Juan Guzman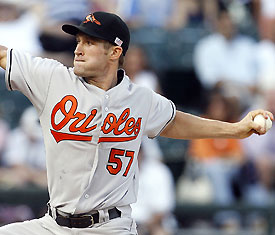 (1998-1999). Guzman was fair-to-middlin' in Baltimore (9-13, 4.20 ERA), but the best thing he did for the team was to bring reliever B. J. Ryan in a trade with Cincinnati.
Outfielder Karim Garcia (2000) went 0-for-16 in a September cameo with the Birds in #57. He returned to the team in 2004 and wore #47, and while he got a few hits, he wasn't much better and didn't last much longer. Another #57 who started slow was rookie southpaw Erik Bedard (2002). Of course, he's made a much better impression in #45.

Another hitless wonder in #57 was catcher Raul Casanova (2002), though to be fair he only had one at-bat. The first Oriole to stroke a base hit while wearing this number was outfielder Pedro Swann (2003), who made the most of his three whole hits: one was a double, and another went for a home run.The Birds should have known what they were in for with erratic reliever Julio Manon (2006); after all, his last name is "man on". Rookie lefty Garrett Olson (2007) also put runners on base at an alarming rate, as he was rushed to the majors by the pitching-poor O's and never put it all together. The most amusingly-named #57 to date was reliever Rocky Cherry (2008), who first appeared in orange and black as #38 in 2007. Jake Arrieta (2010), another of Baltimore's talented young starting pitchers, debuted in the number, but kicked off the 2011 season as #34. A few weeks into the new season, lefty sidearmer Clay Rapada (2011-) took over #57.
---

Number fifty-eight will be short and sweet. Righthanded Francisco de la Rosa (1991) led things off with two games pitched in 1991. Weak-hitting catcher Cesar Devarez (1995, 1996) was shuttled in and out of Charm City for a few seasons. Veteran reliever Hector Carrasco (2003) muddled through half a season in orange and black. Thirty year old first baseman Alejandro Freire (2005) finally got to take his swings in the major leagues with the help of friend and Venezuelan countryman Melvin Mora. The two most recent players in #58 were pitchers Radhames Liz (2007), another raw rookie, and former Mexican Leaguer Alfredo Simon (2008-2009). Minor league catching instructor Don Werner (2009) donned the number while filling in for first base coach John Shelby during a family emergency. In 2005, the O's drafted Brandon Snyder as a high school catcher; in September 2010, he finally reached the big leagues as a first baseman wearing #58.
---


Young pitcher Dave Ford (1978, 1979) started his career strong, allowing seven runs in forty-five innings in brief stints over two seasons. After switching from #59 to #21, his performance declined and he was out of the major leagues by 1982. Maybe he should have stuck with the higher uniform number.

Catcher Willie Royster (1981) took the collar in his career, going 0-for-4 in his late-season exposure to big-league pitching. Pitcher Ryan Kohlmeier (2001) ended a twenty-year drought for #59 after Tim Raines, Sr. laid a claim to the #30 he'd worn earlier that season. However, the hard-throwing righty couldn't recapture the form of his rookie season, and his sophomore campaign proved to be his last. Lefty Eric DuBose (2002-2003) pitched twenty-one games for the Birds over the first two years of his career, and much like Dave Ford, saw his fortunes take a downturn after switching to another number (#28 in this case). Pitching prospect Jim Johnson (2007) made an emergency relief appearance for the O's, allowing two runs in two innings. Righty reliever Brian Bass (2008) was acquired from the Twins just in time to become the 400th pitcher in team history. Josh Rupe (2011) is the latest #59, taking advantage of a strong spring to make the Opening Day roster as a reliever before taking his lumps in the regular season.