Orioles #0-9

NOTE:
Years listed in parentheses represent only the years in which the player wore the listed number for the Orioles.

Okay, technically no Oriole has ever worn #0. But I had to include this photo of shortstop Miguel Tejada (see #10) from April 10, 2005. Miggy slid head-first into home plate at Yankee Stadium, and when he got back to his feet, the "1" on the front of his jersey had started to peel off. He bit the bullet and played the rest of the game wearing only "0" on the front.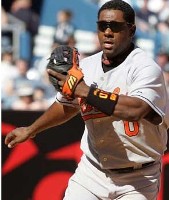 ---

It's appropriate that two of the greatest leadoff hitters in Orioles history have worn #1: center fielder Al Bumbry (1972-1984) and second baseman Brian Roberts (2001-present). Bumbry, who also wore the number as the O's first base coach in 1995, was the 1973 AL Rookie of the Year. His 252 stolen bases were a team record until Brady Anderson surpassed him in 1999. Roberts, already a two-time All-Star, may someday hold that record himself. At the end of 2010, he'd passed Bumbry with 268 total swipes and now needs 40 more to top Brady.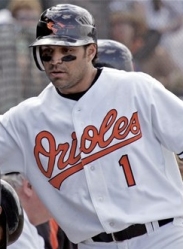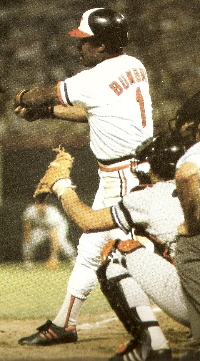 Outfielder Phil Bradley (1990) was mentored as a child by family friend Al Bumbry. Bumbry was a collegiate athlete at Virginia State, where he was coached by Bradley's father. Because of his friendship with Bumbry, Phil grew up in the 1970's as an Orioles fan. So when he finally had a chance to play for the O's himself, the speedy outfielder honored his boyhood hero by wearing his #1.

Another notable #1 was first baseman Bob "the Rope" Boyd (1956-1959), a Negro League Hall of Famer and the team's first .300 hitter. Lunchpail outfielder Joe Orsulak also briefly claimed this number in 1989, when veteran DH Keith Moreland arrived from Detroit and requested Orsulak's regular #6. The only other player of note is second baseman Marv Breeding (1960-1962).

Unfortunately, #1 is also associated with the most infamous moment in Orioles history. Right fielder Tony Tarasco wore this very number on his back as he drifted under a Derek Jeter fly ball in Yankee Stadium in game 1 of the 1996 ALCS. If I go into further detail, I may end up breaking something...but this helps.

Speaking of Orioles infamy, the leftover #1s include a pair of suspect shortstops who were expected to bump Cal over to the hot corner: Juan Bell (1990-1991), and Manny Alexander (1993). There's also one of the more anonymous Rookies of the Year, outfielder-first baseman Jerome Walton (1997), as well as weak-hitting utility player Bob "Rabbit" Saverine (1963-1964). How weak was the Rabbit's bat? As a member of the Senators, he returned to Memorial Stadium in 1966 and set an AL record by logging an 0-for-12 in a doubleheader.


Filling out the roster are two Chicos, second baseman Garcia (1954) and shortstop/second baseman Fernandez (1968); utility man and "Wonder Dog" Rex Hudler (1986); outfielder Jeff Stone (1988); second baseman P. J. Forbes (1998); and infielder Jesse Garcia (1999-2000).


---

In Orioles lore, #2 is especially lacking in star power. Outfielder Al Pilarcik (1957-1960) wore the number for the longest. Yes, really. According to baseball-reference.com, Pilarcik's career most closely resembles that of Whitey Herzog. In January 1961, the Orioles acquired Herzog and Russ Snyder from the Kansas City Athletics in exchange for five players, one of whom was: Al Pilarcik. Spooky, huh?

One of the players who was traded to the A's along with Pilarcik was catcher Clint Courtney. However, Courtney was back with the O's shortly after opening day, reacquired as insurance for injured backstop Hank Foiles. Hopefully, no one told Clint that he was returned to the team for less than the waiver price of $20,000! He had worn #10 the previous year, but upon his return, assumed Pilarcik's old #2 for what would end up being his final season in the majors.

A more authentic example of #2 changing hands via trade occurred in 1954, the team's first year in the American League. Shortstop Neil Berry was sent to the then-minor league franchise in Kansas City on May 12 for shortstop/second baseman Jim Brideweser. More swaps like this can be found on the Odds and Ends page. By 1955, Brideweser was gone as well. In his place was infielder Fred Marsh (1955-1956), who was shipped to Vancouver in mid-1956, never to return. His uniform number was taken by outfielder Joe Frazier (1956), who wasn't exactly smokin', as his .743 career OPS shows.


As a matter of personal taste, I still identify utility player extraordinaire Mark McLemore (1992-1994) with the deuce. His career year in 1993 (.284, 72 RBI, 21 SB) coincided with my first year of following the team. Before Mac there was solid backup catcher Bob Melvin (1989-1991).


Rich Coggins (1972-1974) may have been the most popular #2, though the outfielder never quite lived up to the potential of his great 1973 season (.319 AVG). He was later followed by infielder Billy Smith (1977-1979) and one of the poster children for wasted potential, shortstop Bobby Bonner (1980-1983). Second baseman Alan Wiggins (1985-1987) went up in a cloud of smoke, or rather white powder. (If anyone has proof that he fell for the hidden ball trick twice, let me know.) Speaking of second basemen, Bret Barberie (1995) turned into a pumpkin after two strong years with the Marlins.


Other twos include the two Bobs, utility men Bob Saverine (1962) and Bob Johnson (1963-1967), as well as a Bobby - infielder Bobby Floyd (1968-1970).
In the midst of all those Bobs, second baseman Mickey McGuire (1967) made a cameo appearance. Infielder Jerry DaVanon played 38 whole games for the Birds in 1971. There were also a few veterans who had gained fame elsewhere, second baseman Johnny Temple (1962) and former Tigers outfielder Jim Northrup (1975). Second baseman Vic Rodriguez (1984) hit for an astounding .412 average with the O's...in 17 at-bats.

Don Buford, one of Frank Robinson's old outfield mates, returned as a member of his coaching staff during the ignominious 1988 season.

Of course, the longest-tenured #2 for the Orioles was coach and manager Sam Perlozzo (1996-2007), a nice guy who may have been in over his head as skipper of the team. His jersey wasn't even cold before the team gave his number to slick-fielding rookie shortstop Luis Hernandez (2007-2008), who eventually got the yips in the field, rendering him expendable. For the second half of 2008, another shortstop passed through in #2: 36-year-old Juan Castro. 2009 brought two more yawn-worthy twos in utility player Ryan Freel and minor league veteran outfielder Lou Montanez. The latter has also worn #3 and #14 in his O's career. Thanks to Brian Roberts' bad back, Oriole fans saw more than their share of Julio Lugo (2010) at second base. Mercifully, Lugo was not retained for 2011. New shortstop J. J. Hardy takes over as #2.
---

St. Michaels, MD native Harold Baines (1993-1995, 1997-1999, 2000) may never have his #3 retired by the Orioles, but he did receive the honor with the Chicago White Sox, his first team. By the time Harold arrived in Baltimore, his knees were in such bad shape that he was a permanent designated hitter. He seemed to have the hang of it, though; in parts of seven seasons, he hit .301 for the O's with 107 home runs and 378 RBI.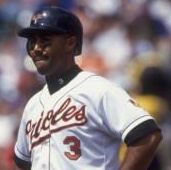 Backup catcher Clay Dalrymple (1969-1971) kept #3 warm for second baseman Bobby Grich, who wore #16 in brief stints with the Orioles in 1970 and 1971. Grich finally stuck in Baltimore as #3 in 1972, and won four straight Gold Gloves before departing as a free agent at the end of 1976.



Billy Ripken (1987-1988, 1989-1992, 1996) was another strong defender at second base and wore the three for a large majority of that time. In fact, he still wears the number when he appears in uniform at Ripken Baseball instructional camps

Longtime National League shortstop Cesar Izturis (2009-present) brought defensive stability to the position that had been unseen in Charm City over the previous decade, but his offensive contributions have been few and far between.



Two Orioles won Rookie of the Year honors while wearing #3: shortstop Ron Hansen (1958-1962) and brittle outfielder Curt Blefary (1965-1968). After Blefary died in 2001, he was cremated and his ashes were spread over what was left of Memorial Stadium.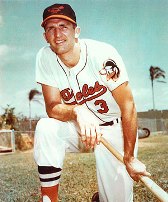 Speaking of brittle outfielders, Larry Bigbie (2001-2005) showed some promise but never stayed healthy long enough to deliver.

First baseman Eddie Waitkus (1954) had already cemented his place in baseball lore by the time he became an Oriole. Waitkus was a star hitter with the Cubs, a Rookie of the Year winner and fan favorite. One of those fans was Ruth Ann Steinhagen, who developed an unhealthy obsession with the player. She went off the deep end following Waitkus' trade to the Phillies in December 1948. When the Phils made their first trip to Chicago in June 1949, Ruth Ann rented a room at the team's hotel and convinced Eddie to come see her by leaving several messages for him at the front desk. As soon as he entered her room, she pulled out a rifle and shot him in the chest. "Baby, why did you do that?" Waitkus asked. "Why did you do it?". Steinhagen called the front desk, and Waitkus survived; the bullet had narrowly missed his heart and was removed in an emergency surgery. After missing the rest of the season, he rebounded to bat .284 in the Phillies' pennant-winning 1950 campaign and was named Comeback Player of the Year. Ruth Ann Steinhagen spent just three years in a mental hospital, but she never did see Waitkus again. If his story sounds familiar, it was the inspiration for a famous scene in Bernard Malamud's classic 1952 novel,

The Natural.



Hall of Fame third baseman George Kell (1956-1957) finished his career in Baltimore, and helped mentor another Hall of Fame third sacker who was just getting started.

Another early #3 was former Dodgers favorite Billy Cox (1955), who patrolled the Birds' infield for just two months before a June 15 trade to Cleveland. Cox refused to report to the Indians and retired. One of the players acquired in that trade was outfielder Dave Pope (1955-1956), who claimed Cox's jersey number.

Kiko Garcia (1977-1980) was tabbed to replace Mark Belanger at shortstop, but aside from a stellar performance in the 1979 World Series (.400 AVG), he didn't do much to distinguish himself before being sent to Houston. A few other infielders followed Kiko's cue and donned #3 in the 1980's: Leo Hernandez (1982-1983, 1985) and Super Mario lookalike Juan Bonilla (1986). When Bill Ripken switched from #3 to #7 in 1988, his original number was given to rookie third baseman Craig Worthington, who settled on #25 the following year.

Rounding out the threes are outfielders Willie Kirkland (1964), Tony Tarasco (1997), and Midre Cummings (2005), bench coach Lee Elia (2006), utility player Freddie "Boom Boom" Bynum (2007-2008), and outfielder Lou Montanez (2008).
---

Number 4 belongs to legendar
y manager Earl Weaver, of course. He wore the number upon joining the team in 1968 as first-base coach,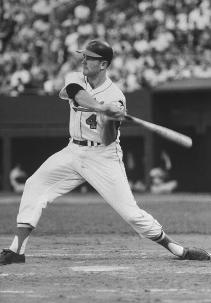 and kept it until his retirement at the end of the 1982 season. The Orioles honored Weaver by retiring the number, only to bring it out of retirement along with Earl himself for the 1985 and 1986 seasons. He retired for good in 1986, ensuring that no Oriole will wear #4 again.


Before the Earl of Baseball came along, #4 was most identified with "Diamond" Jim Gentile (1960-1963), the first in a long line of power-hitting Orioles first basemen. Jim had a career year in 1961, when he set several Orioles offensive records; his .646 slugging percentage hasn't been equaled since. Unfortunately, a couple of guys in New York named Mantle and Maris also had pretty good seasons, and Gentile finished third in MVP balloting.

The short list of fours also includes a power-hitting shortstop who played out his career in the orange and black, Vern Stephens (1954-1955). He was followed by expert pinch-hitter Dave Philley (1955-1956), who was followed in turn by outfielder Bob Nieman (1956-1959). The last couple of players to wear #4 before Earl Weaver's tenure were a pair of first basemen: Norm Siebern (1964-1965) and the colorfully nicknamed Mike "Superjew" Epstein (1967).
---

Sixteen Gold Gloves. American League MVP, 1964. World Series MVP, 1970. In Orioles lore, the number five begins and ends with Hall of Fame third baseman Brooks Robinson. He first wore it in 1957, and finally hung up his jersey in 1977. It took the team about a split second to retire #5 for Brooks. It's been said that an entire generation of boys in and around Baltimore were named "Brooks", and the tributes didn't end there. Kansas City Royals Hall of Famer George Brett wore number five for much of his career, acknowledging that Brooks Robinson was his idol. Cal Ripken, Jr., also wore #5 in 1981 with the Rochester Red Wings before getting the call to the big leagues, but that seems to have been coincidence more than anything else.



The scant few to wear #5 before Brooks got a hold of it were second baseman Bobby Young (1954-1955) and third baseman Hank Majeski (1955), who traded places in a midseason deal with the Indians; outfielder Angie Dagres (1955); and infielders Bobby Adams (1956) and Grady Hatton (1956). It's interesting to note that Adams spent the early part of his career backing up Hatton in Cincinnati; a few weeks after the Orioles released Adams in 1956, Hatton joined the team and took Adams' uniform number.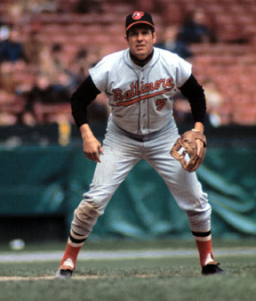 ---

Shortstop-turned-outfielder-turned-third baseman Melvin Mora (2000-2009) spent a decade with the Orioles, and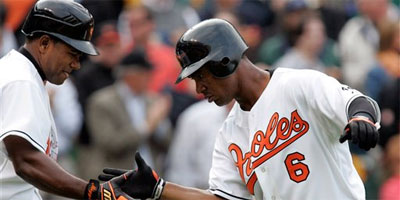 wore number six for all ten seasons. The two-time All-Star ranked in the top ten of almost every career offensive category for the O's at the time of his departure. Time flies, doesn't it? Coincidentally, Melvin has another important six in his life: his six children, including quintuplets born in 2001. The year after he departed Charm City, former teammate Corey Patterson (2010) made his return in #6.

Of course, Melvin fell short of being the longest-tenured #6 in Orioles history. That honor goes to graceful center fielder Paul Blair, who wore the number for twelve years (1965-1976). "Motormouth" won eight Gold Gloves; no other Oriole outfielder won the award until #10 Adam Jones in 2009.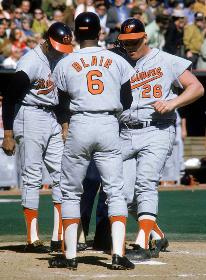 One of the more popular sixes was outfielder Joe Orsulak (1988-1989, 1990-1992). As previously mentioned, he gave up the number briefly in 1989 for veteran designated hitter Keith Moreland, who was of little help to the Birds during the pennant race.
Another veteran who had poor luck wearing #6 in Baltimore was second baseman Harold Reynolds (1993), who chose the number because his preferred #4 (which he wore in Seattle to honor Paul Molitor) was retired for Earl Weaver. After an April in which he hit only .167, Reynolds switched to #25. "It couldn't hurt", he said at the time. The switch apparently suited him, as he finished his only season in orange and black with a .252 average.

A pair of well-known second basemen made their debuts in Baltimore wearing #6: Jerry Adair (1958), who would wear #7 for a majority of his career; and Davey Johnson (1965), who eventually settled into #15. Similarly, Orioles fans who remember Billy Hunter as a mainstay of Earl Weaver's coaching staff may not realize that he was the team's starting shortstop in 1954, and the first to wear number six.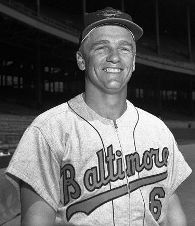 Technically speaking, the Orioles have had two pitchers who wore #6, a real rarity in major league baseball. Of course, both were actually position players - outfielder Larry Harlow (1978-1979) and infielder Manny Alexander (1995-1996). Unfortunately, the results were eerily similar.

A lot of former Orioles have gone on to manage in the major leagues. You might not know that former Royals and Cardinals manager Whitey Herzog (1961-1962) is one of them. He patrolled the outfield for the O's while wearing #6.

First baseman Bob Hale (1955-1957) hit .357 in 67 games in his rookie season, but that was by far the highlight of his career. Some other sixes in the early years of the franchise were shortstop Eddie Miksis (1958), infielder Billy Klaus (1959-1960), and outfielders Joe Gaines (1963-1964) and Lenny Green (1964).

Rounding out the number six we have a pair of husky gentlemen: third baseman/catcher Floyd "Sugar Bear" Rayford (1984-1987) and first baseman/battleship Calvin Pickering (1998). The rest of the roll call includes infielder Wayne Krenchicki (1980-1981), mustachioed third baseman Aurelio Rodriguez (1983), backup catcher Mark Parent (1993), infielder Aaron Ledesma (1997), outfielder Rich Amaral (1999-2000), and rookie infielders Justin Turner (2010) and Ryan Adams (2011). Corey Patterson (2010) made a surprise return to the O's outfield and reinvigorated his career with a .269 average and 21 steals in 90 games.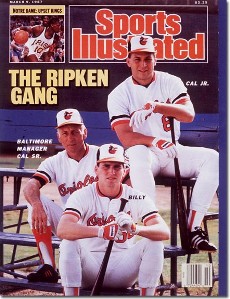 ---

Whi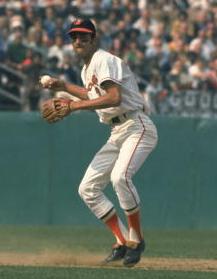 le the Orioles haven't retired #7, there is a moratorium on the number. Ever since longtime coach and manager Cal Ripken, Sr. (1985-1988, 1989-1992) passed away in 1999, the team has not issued the number to anyone. The Birds also paid tribute to "Senior" by wearing a black "7" on their right sleeves for the entire 1999 season. When Cal Senior was relieved of his managerial duties six games into the dismal 1988 season, second baseman Billy Ripken honored his father by switching from #3 to #7 for the remainder of the year.

Before Cal Ripken, Sr., shortstop Mark Belanger (1966-1981) had a stranglehold on the number. "The Blade" won eight Gold Gloves in sixteen years as the Orioles' #7. Coincidentally, Mark made his major league debut on August 7.

Belanger was preceded by another talented infielder, second baseman Jerry Adair (1960-1966). Adair set a record with 89 consecutive errorless games at second base spanning the 1964-1965 seasons.

Going back to the beginning, only three other players have worn #7 for the Orioles: first baseman Frank Kellert (1954), defensively gifted shortstop Willie Miranda (1955-1959), and flaky outfielder Jackie Brandt (1960).
---
Cal Ripken, Jr.

is

#8, bar none. He wore the number from 1981 to 2001, for all 3,001 games of his Orioles career, including a record 2,632 consecutive games. There's little doubt that Cal would have made it to the Hall of Fame without The Streak, on the virtue of his 3,184 hits, 431 home runs, 1,695 RBI...you get the idea. The Birds retired Cal's #8 on the day he retired - October 6, 2001.


According to the Iron Man, the number eight that is such an indelible part of his image bears no special significance:

"Some guys are particular about their number, but I didn't care. I was just happy to have any major league uniform with any number. In the minors I'd worn 16, 7, 12, and 5, respectively. If I'd thought about it, which I didn't, I might have preferred 7 with Baltimore, because that was Dad's number throughout his years managing in the minors, but Dad also preferred that number, which he got in a few years when Belanger retired..."

Cal Ripken, Jr. and Mike Bryan,

The Only Way I Know

(1997), pp. 73-74.

Catcher Andy Etchebarren (1962,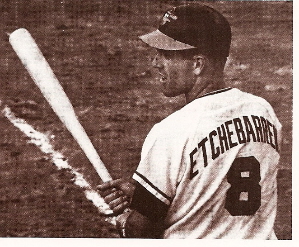 1965-1975) notched twelve years in the #8 jersey. For trivia buffs, he was the last batter to face Sandy Koufax. Etch bounced into a double play in the sixth inning of Game 2 of the 1966 World Series; the O's swept the Dodgers in four games and Koufax retired due to prolonged arm troubles. Until recently, Andy managed the Orioles' New-York Penn League club, the Aberdeen IronBirds, and wore #12.

I believe second baseman Jerry Adair (1959) was the only Oriole to wear three consecutive numbers: 6, 7, and 8. However, he didn't wear them in sequential order, which is a real shame.

Outfielder Gene Stephens (1960-1961) was traded on June 8, 1961 to Kansas City for outfielder/first baseman "Marvelous" Marv Throneberry (1961-1962). The Orioles would trade Throneberry to the Mets nearly a year later, allowing him to realize his true calling as the most infamous member of the worst team in the history of the major leagues.

The rest of the eights include first baseman Dick Kryhoski (1954); infielder Kal Segrist (1955); outfielder Jim Pyburn (1955-1957); shortstops Buddy Peterson (1957) and Foster Castleman (1958); former Indians All-Star second baseman Bobby Avila (1959); shortstop Tim Nordbrook (1975-1976); and reserve catcher Dave Skaggs (1977-1980).
---

Outfielder Brady Anderson (1989-2001) was a good friend and a teammate of Cal for fourteen years, and sported #9 for all but one of them. Brady w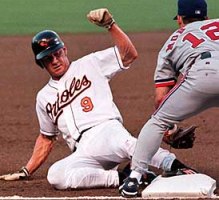 as a pretty good player in his own right, who is best known for surprisingly breaking the Orioles single season record with 50 home runs in 1996. Additionally, he is the only player in major league history to have a 20-home run, 50-steal season (1992)

and

a 50-home run, 20-steal season (1996). If you're so inclined, ladies and certain gentlemen, here's some beefcake.

Outfielder Don Buford (1968-1972) batted leadoff during the Orioles' dynasty years. He holds the major league record for grounding into the fewest double plays, with 34 total: one for every 138 at-bats. Compare that to Cal Ripken, Jr.'s record for the most GIDP: 350! Buford also coached for the O's in 1988 and 1994, wearing #2 and #13.

Buford's Orioles predecessor as #9 was another flycatcher, Russ Snyder (1961-1967). He was traded by the Orioles to the White Sox after the 1967 season (along with Luis Aparicio and John Mathias) for Don Buford, Bruce Howard, and Roger Nelson. So not only did Buford take Snyder's place on the team, but he also he took his number.

The most famous player to wear number nine for the Birds is barely remembered for his time in Baltimore. Reggie Jackson came to the team in a 1976 trade with the Oakland Athletics, didn't bother to show up until May, had a slightly subpar year by his standards, and bolted to the Yankees in November 1976 as one of baseball's first free agents. It was a bold gamble by GM Hank Peters and one of the team's rare misfires in the 1970's.


Who's #9?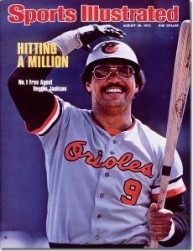 When the Orioles traded for right fielder Reggie Jackson in April 1976, one of his former A's teammates was the incumbent #9 for the Birds. Catcher Dave Duncan was asked if he would try to hold onto his uniform number, which Jackson had worn in Oakland.
"As far as I'm concerned, there's only one No. 9 in baseball," Duncan replied. "Reggie can have it the minute he gets here."
Indeed, Reggie sported #9 for his short stay in Birdland, and Duncan switched to #25. It would be Jackson's last season wearing the number, as the next year saw him playing for big bucks with the Yankees. New York third baseman and #9 Graig Nettles was not as charitable as Duncan. The future "Mr. October" took #44 to honor all-time home run king Hank Aaron, who had just retired. Eventually, both #9 (in Oakland) and #44 (in New York) would be retired for Reggie.
Okay, that's enough Yankees talk already.
Expert pinch hitter Jim Dwyer (1984-1988) sported #9 for the second half of his Orioles career. He hit a career-high 15 home runs in 1987, including game-tying and game-winning shots off of Dennis Eckersley. Another veteran who switched to #9 mid-stream was Miguel Tejada (2010), who rejoined the Birds as a third baseman and found his old #10 occupied by Adam Jones.
A few less-prominent nines were first baseman Eddie Waitkus (1955); second basemen Don Leppert (1955) and Billy Gardner (1956-1959); first sacker Bob Boyd (1960); and a trio of outfielders in rookie Mike Reinbach (1974), Mexican-born Carlos Lopez (1978), and Bob Molinaro (1979). In 2002, outfielder Luis Garcia and infielder Luis Lopez split the number. Infielder Scott Moore began 2008 as #9, but was sent to AAA Norfolk twelve days into the season. First baseman Michael Aubrey (2009) held his own in a late-season look.
There is a fascinating trend (to me, anyway) when looking at the list of niners. There are no less than ten catchers, all of them part timers. In order, they are: Ray Murray (1954); future Athletics and Cardinals pitching coach Dave Duncan (1975); Floyd Rayford (1980, 1982); current auto dealer John Stefero (1983); grouchy Geronimo Gil (2003-2005); Ken Huckaby (2004); Raul Chavez (2006); Danny Ardoin (2006); Paul Bako (2007); and Gregg Zaun (2009), who did keep the starting job warm until Matt Wieters ascended to the throne in May '09 while wearing #15. The intrigue continues with Jake Fox (2010-2011) started out in #47, but chose #9 after Tejada was traded at the deadline. I'm sure it all means something, I just can't say what.