Orioles #60-99
NOTE:
Years listed in parentheses represent only the years in which the player wore the listed number for the Orioles.


These lists are getting shorter all the time. Only four Orioles have worn #60, starting with rookie pitcher Jimmy Haynes (1995). He got the team's attention with a 2.25 ERA and 22 strikeouts in 24 innings in a September audition. But he returned in 1996 with #50 on his back, and the rest of the league seemed to figure him out. He lasted longer than Luis Rivera (2000), who pitched two-thirds of an inning after being traded from Atlanta in the B. J. Surhoff deal. Injuries brought Rivera's career to a premature end. Geronimo Gil (2001) made his September debut in #60. Most recently, bullpen coach and batting practice pitcher Orlando Gomez (2005-2007) donned the big six-oh.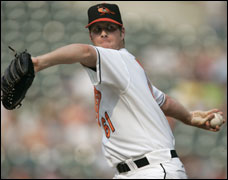 ---


Believe it or not, pitcher Dennis Martinez (1976) was the first #61 to suit up for the Birds, debuting in that number as a late-seas
on callup. The
number went into mothballs for twenty-five years before being given to another September roster addition, first baseman Casey Blake (2001). He eked out two hits in fifteen at-bats, and was waived at season's end. Casey finally caught on with the Indians in 2003 and became a dependable starter at third base. Journeyman pitcher Dave Borkowski (2004) had not pitched a game in the big leagues since 2001 when the O's gave him the call as an emergency starter. He responded by nearly blanking Tampa Bay, ultimately winning 8-2. He tired down the stretch, but did manage to stick with the team for the rest of the season. The following year, righty John Maine (2005) got his second taste of the majors and picked up his first two wins. He was traded to the Mets that offseason along with Jorge Julio, bringing Kris Benson to Baltimore.

---


In 1995, prized pitching prospect Rick Krivda debuted in #62, becoming the first Oriole to wear the number in the team's first 42 seasons. He soon switched to #37. Bullpen catcher and batting practice pitcher Rudy Arias (1997?-2007) came next, and afterward, slender righthander Radhames Liz (2008, 2009) became the second player to don this number for the Birds. If his stomach-churning performances were any indicator, it will be a long time before we see another #62 in Birdland.

---


Converted catcher Nerio Rodriguez (1996) pitched in eight games for the Birds as a rookie; he would return for a few games in 1997 and 1998 with #39 on his back. Outfielder Tim Raines, Jr. (2001) had the special honor of starting his career in the same outfield as his father. Outfielder Val Majewski (2004) was a surprise callup from AA Bowie, and swatted two hits in thirteen at-bats in limited exposure to major league pitching. His career has been slowed by injuries since, but Val's still young enough (26) to turn things around. Rookie catcher Gustavo Molina (2007) made his way into seven games after being claimed off of waivers from the White Sox. In 2008, another young catcher got the late-season call: Puerto Rican native Omir Santos. Rookie righty David Hernandez (2009) became the first Baltimore pitcher to wear this number and started off well before hitting the wall in September. He was given #29 the following April, and a year later begoggled reliever Kevin Gregg (2011-present) chose #63, as he had with each of his previous four big league clubs.
---


Well-traveled lefty Bruce Chen (2004) parlayed a strong stint in AAA Ottowa into a promotion to Baltimore, where he was assigned #64. He pitched well in an eight-game trial (3.02 ERA), earning a spot in the O's rotation for the following season. In 2005, he switched to #27. Second baseman/designated hitter Bernie Castro (2005) hit .288 while subbing for an injured Brian Roberts, but his cavalier attitude hastened his exit. Young pitcher Brad Bergesen (2009) debuted in #64 but switched to #35 a month into his tenure with the O's.

---


Shortstop Ed Rogers (2005), who'd previously appeared in five games in 2002, was used primarily as a pinch-runner in his second go-round in Charm City. Rogers, wearing #67, got only one at-bat, but did stroke his first career hit...a two-run home run against the Yankees. The current occupant of this number is bullpen catcher Ronnie Deck (2008-present).
---

2008 brought the Orioles their first #68, bullpen catcher and batting practice pitcher Ruben Felix. He'd previously assisted the Indians' coaching staff from 2004 through 2007.
---


So far, outfielder Jeff Fiorentino (2009) is the only player in team history to wear #70. He sported the number during his third go-round in Baltimore, having worn #16 in 2005 and 2006.

---


Catcher Robert Machado (2003-2004) was the first (and so far, the last) Oriole to put on the #72 jersey. He didn't really do anything of note, hitting .265 in part-time duty in 2003 and falling to .151 the next year. It's not clear whether he wore this number by choice; maybe he was a Carlton Fisk fan.
---


Reliever Alan Mills (1992-1998, 2000-2001) had several solid years with the Orioles, all in #75. The lanky righthander was famous for glaring at hitters from the mound, his hat brim pushed as low as possible to cast a deep shadow over his face. His defining moment in orange and black may have come in the infamous May 1998 brawl against the Yankees, when he jumped into the dugout and cold-cocked Darryl Strawberry. Kudos to you, Alan.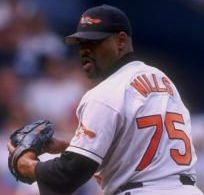 The only other Oriole in a #75 jersey was gigantic first baseman/designated hitter Walter Young (2005). Young drew comparisons to longtime White Sox slugger Frank Thomas while in the minors; however, his career seems to have stalled some 500-plus home runs short of the Big Hurt's mark.
---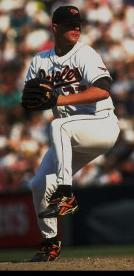 You may know Joe Borowski (1995) as the shaky veteran closer who made things interesting for the Cubs, Marlins, and Indians at various times. But he got his start with the Orioles. Apparently the only thing luckier than #7 is two sevens, as Joe surrendered only one run in six games in Baltimore. Still, he was sent to the Braves shortly thereafter for (ahem) Kent Mercker.



Catcher Eli Whiteside (2005) was seemingly in the O's organization forever (in actually, he was in the farm system from 2001-2007). He only played nine games for the Birds, and yet he has two uniform numbers to show for it. He donned #15 in a July callup, but settled for #77 in September; Eric Byrnes had claimed #15 in the interim. In 2009, Eli resurfaced in San Francisco as a backup to Bengie Molina and caught pitcher Jonathan Sanchez's no-hitter that July. John Russell, who was also a catcher in his playing days, is now wearing #77 as the Birds' third base coach.
---

In 2009, catcher Guillermo Rodriguez broke in #78 for the Orioles with a grand total of five hitless at-bats in seven late season games.
---

Taking full advantage of the expanded 40-man major league roster in September 2009, the O's also introduced their first #83, rookie infielder Justin Turner. He didn't accomplish much, but should be in the mix as a utility player in upcoming seasons.
---

When pitching coach Leo Mazzone arrived in Charm City, bullpen catcher and batting practice pitcher Sam Snider (2006-2007) moved on up to #84, becoming the only Oriole to date to wear that number. He was let go after the 2007 season, and spent a few years coaching the York Revolution in the independent Atlantic League. He was hired by the Revs when ex-Orioles catcher Chris Hoiles was their manager.
---
Thanks to Cal Ripken, Jr.'s eternal claim on #8, the Birds have had three different players suit up in #88. The first was utility infielder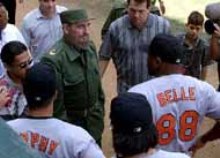 Rene Gonzales (1987-1990), who became so attached to the unusual number that he wore it even after leaving the team. He was followed by rookie first baseman Paul Carey (1993). Carey actually had to cede the number to Gonzo in Spring 1994, when they were both in O's camp. It soon became a moot point, as Gonzales was released and Carey demoted at the beginning of the season.
Number eighty-eight made a loud return on the broad back of outfielder Albert Belle (1999-2000), who had previously worn #8 throughout his career. The Orioles grabbed headlines by signing the mercurial power-hitter to an exorbitant free-agent deal, and he pulled his weight in his first season in Baltimore (37 HR, 117 RBI, .400 OBP). But Belle also publicly clashed with manager Ray Miller as the team continued to decline. The outfielder dipped to 23 home runs in 2000, then abruptly retired because of a degenerative hip condition.
---


In addition to expanding the player roster each September, MLB teams are also permitted to call up an additional coach. Minor league pitching coach Mike Griffin (2009), who wore #42 when he pitched for the O's in 1987, received the temporary promotion last season. That brings an end to the rundown...for now.
---