Orioles #30-39

NOTE: Years listed in parentheses represent only the years in which the player wore the listed number for the Orioles.




Righthanded pitcher Gregg Olson (1988-1993) is possibly the greatest closer in Orioles history. He used his devastating curveball to rack up 160 saves in just five full seasons, a team record that is unlikely to be challenged any time soon. He was also the first reliever to win the American League Rookie of the Year Award, saving 27 games and winning five others for the Birds in 1989. Injuries accelerated Olson's departure from Baltimore and limited his effectiveness in the second half of his career, otherwise there's no telling what "The Otter" could have accomplished.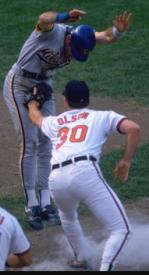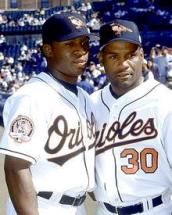 Speaking of "what could have been", Dennis Martinez (1977-1986) won 108 games in Baltimore, but nearly lost his career to an alcohol addiction. Fortunately, "El Presidente" battled back after being traded to Montreal. The Nicaraguan native retired in 1999 as the winningest Latin American pitcher in major league history. More importantly, he is renowned for his humanitarian work with the Dennis Martinez Foundation, which provides aid and resources for the peoples of Central America.

One of Dennis' teammates in Montreal found his way to Charm City in 2001. Star outfielder Tim Raines, Sr. joined a miserable Orioles squad in October and shared the outfield with his son for two games. After initially wearing #11, Raines was soon given his familiar #30, which had previously been occupied by pitcher Ryan Kohlmeier (2001).

As a rookie, O's slugger Boog Powell (1961) also wore #30. He would wear #16 the following year before settling on #26 for the balance of his time in orange and black. Other Oriole rookies in #30 were pitcher Bill Short (1962); first baseman Mike Fiore (1968); catcher Sergio Robles (1973); infielder Ricky Jones (1986); and outfielder Brent Bowers (1996).

Veteran lefty Harvey Haddix (1964-1965) finished his career as an effective reliever for the Birds. However, he's best known for a game that he started for Pittsburgh in 1959. Haddix tossed twelve perfect innings against the Braves, but his Bucs teammates failed to muster a single run against opposing started Lew Burdette. Harvey was the ultimate hard-luck loser, giving up a run-scoring double to Joe Adcock (following an error and an intentional walk of Hank Aaron) with two outs in the thirteenth.

Mike Hargrove (2000) wore #30 for his first season as O's skipper. No other Orioles manager has donned #30, but a few first base coaches have: Frank Skaff (1954); Al Vincent (1955-1959), who doubled as hitting coach; and Dave Cash (2005-2006).

When outfielder Dwight Smith was acquired from the Angels on June 14, 1994, he became the fourth Oriole that season with the surname Smith (joining Lee, Lonnie, and Mark). I'm fairly sure that's a record. It was short-lived; only Mark Smith was still with the team in 1995.

Starting pitcher Ken Holtzman was the "other player" the Orioles acquired from Oakland in 1976, along with Reggie Jackson. He only lasted two months in Baltimore before being traded again, in the blockbuster deal with the Yankees. One of the players who arrived in that trade was pitcher Dave Pagan (1976), who wore the #30 previously assigned to Holtzman.

Other Birds pitchers who claimed number thirty were Bob Mabe (1960); John Buzhardt (1967); Scott Kamieniecki (1997-1999), who won ten games for the wire-to-wire champs in 1997; Rick Bauer (2002-2005); has-been Russ Ortiz (2006); Todd Williams (2007); and Rob Bell (2007), who made it back from career-threatening bouts of depression, only to surrender 7 of the Rangers' 30 runs in a historical shellacking. Sometimes life just isn't fair.

Cleaning up for the Orioles' thirties are catcher Hobie Landrith (1962-1963); infielder Chico Salmon (1969-1972); third baseman Kelly Paris (1986); two-time Oriole Tito Landrum (1988); and third baseman/second baseman Jeff Huson (1995-1996). Luke Scott (2008-present) has been one of the most powerful, albeit streaky, O's hitters since arriving from Houston in the Miguel Tejada trade, going deep 75 times in three full seasons.
---


Number 31 has long been the domain of pitching coaches in Baltimore, starting with Harry "the Cat" Breechen (1954-1967). The former St. Louis hurler presided over the development of the first batch of star pitchers: Pappas, Barber, Bunker, Palmer, McNally, and on and on. He bridged the gap between the ragtag ex-Browns of 1954 and the World Champions of 1966.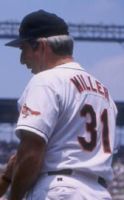 Breechen was followed by one of his former pitchers, George Bamberger (1968-1977). Undoubtedly the highlight of Bambi's tenure as the Birds' pitching coach was the 1971 season in which the team had four 20-game winners en route to the American League Championship.

When Bamberger became manager of the Milwaukee Brewers, he was replaced by Ray Miller (1978-1985). "The Rabbit" provided guidance to young talent such as Mike Flanagan, Scott McGregor, and Mike Boddicker. After a short stint as the Twins' manager, Miller spent ten seasons furthering his legacy in Pittsburgh before returning in 1997 to coach the last successful Orioles team. When Davey Johnson clashed with Peter Angelos, Ray was his replacement as manager. The team that he inherited showed its age, and Miller was relieved of his duties after posting losing seasons in both 1998 and 1999.

After Miller's first departure from Baltimore, pitcher Brad Havens (1985) became the first O's player to ever wear #31. He was followed by (surprise) four consecutive pitching coaches: Ken Rowe (1986); Mark Wiley (1987); Herm Starrette (1988); and Al Jackson (1989-1991). Rowe and Starrette had both pitched for the Birds in the 1960s.

A late-season pickup, lefty Craig Lefferts (1992) tossed five largely forgettable games in orange and black. The following season, bench coach Jerry Narron (1993-1994) became yet another #31-clad Orioles coach.

Two journeyman relievers also wore #31: walrus-mustached Doug Jones (1995) and legendary prankster Roger McDowell (1996). I brought up Jones' facial hair so I wouldn't have to talk about his pitching. Let's keep moving.

Former Brewers also-ran Jose Mercedes (2000-2001) was a Cinderella story in his first year in Charm City, winning nine out of ten decisions in one stretch on his way to a 14-7 overall record. As has been the pattern recently, he lost 17 games the next year and never started another major league game.

Catcher Izzy Molina (2002) played only one game for the O's and was followed in short order by corner infielder Jose Leon (2002-2003). Outfielder/designated hitter Jay Gibbons (2004-2007) played his way out of Baltimore after switching to #31, surpassing 100 games played only once in four years and seeing his production drop like a rock before finally being released at the end of Spring Training in 2008. His place was taken by rookie reliever Bob McCrory (2008), who had a disastrous introduction to major league life. Later in the season McCrory was supplanted by towering righty Kam Mickolio (2008-2010), one of his 'penmates from Norfolk. Both pitchers were promoted for their second stint on September 2, with Mickolio getting the nod in #31; McCrory switched to #41.

---


Pitcher Milt Pappas (1957-1965) is largely known today as the man who was traded for Frank Robinson, which is a shame. Pappas was a good player in his own right, and appeared in only three minor league games before debuting with the Orioles as an eighteen-year-old. He won ten or more games in each of his eight full seasons in Baltimore, and appeared in three All-Star Games. Never afraid to take a stand, Pappas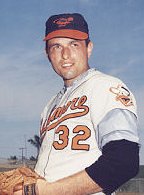 admitted in 1998 that he had grooved fastballs to Yankees slugger Roger Maris in 1961; the New York right fielder hit his 59th home run off the Birds pitcher that year. Milt was upset by commissioner Ford Frick's declaration that Maris would have an asterisk next to his name in the record book if he did not surpass Babe Ruth's total of 60 home runs in the 154 games that it took the Bambino to reach the mark.

Another righthanded pitcher who racked up some wins in Mobtown was Steve Stone (1979-1981), although he had one great year rather than a sustained period of success. The quirky hurler was struggling in his first season in Baltimore (6-7, 4.40 ERA) when he decided to undergo a karmic overhaul. Stone met with a psychic, tried meditation and positive thinking, and sought to emulate his idol, fellow Jewish pitcher Sandy Koufax. He read the former Dodger great's autobiography five times and switched from #21 to Koufax's #32. Steve finished the season on a roll (5-0, 2.94 ERA), but he was just getting started. In 1980, he set an Orioles record with 25 wins against just 7 losses, and finished in the top ten in just about every other category in the American League. As a result, he was the last O's pitcher to date to win the Cy Young Award. However, his excessive use of the curveball that season took its toll on his right arm; he pitched just fifteen games in 1981, the final year of his career.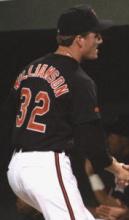 Would-be franchise savior Matt Wieters (2010-present) wore #32 while turning heads as a pitcher and catcher at Georgia Tech, and brought the number with him during his meteoric rise through the minor leagues. When he made his much-anticipated major league debut in May 2009, southpaw reliever Jamie Walker was blocking his path and the rookie settled for #15. Walker was released a few weeks later, but Matt waited until 2010 to switch to his accustomed digits.

Mark Williamson (1987-1994) was a fixture in the Orioles bullpen for several years. His best season came in 1989, when he swooped out of the 'pen to win ten games and save nine others with an earned run average of 2.93. He only allowed four home runs that year. In 1991, Williamson pitched a perfect eight inning in the Birds' no-hit win over Oakland. Other effective relievers in #32 include hulking Gene Brabender (1966-1968); Marcelino Lopez (1969-1970); and good ol' boy Jamie Walker (2007-2009), who set a team record in 2007 with 81 games pitched but was never the same afterward.
In the days before Glenn Davis, catcher/first baseman Earl Williams (1973-1974) was the guy when it came to talk of the worst trades in Orioles history. Perceiving a weakness at catcher, O's brass acquired the powerful backstop from the Braves for four players, most notably Davey Johnson and Pat Dobson. After clubbing 51 homers in two full years in Atlanta, Williams hit just 36 longballs in two years in Baltimore and won no fans with his brash attitude. He referred to himself as "Big Money", but to his detractors he was "Small Change". Meanwhile, the Braves were beneficiaries of an amazing performance from Davey Johnson, whose home run output jumped from 5 to 43 in his first season in the National League. Talk about buyers' remorse.

Luis Matos (2000-2006) is one of the longest-tenured thirty-twos for the O's, but his is yet another tale of what might have been. The speedy youngster dazzled with his defense in center field, but was hounded by injuries. Matos only topped 100 games played in two seasons, which also happened to be his best all-around years (2003 and 2005). However, he eventually fell out of favor with Orioles' higher-ups, who questioned his effort at times. After being released by both the Birds and the Nationals in summer 2006, he did not appear on any major league roster in the 2007 season. After Matos was sent packing, reliever LaTroy Hawkins (2006) switched from #23 to his customary #32.

#32 seemed to be a hot potato in 1998. It was first worn by 6'7" pitcher Bobby Munoz, a former Yankees prospect. Munoz was recalled from Rochester on May 15 and appeared in seven games, getting touched up for 12 runs in 10 innings. He was demoted on June 5. The following day the club called up outfielder Jesus Tavarez, who collected 11 at-bats before being sent down on June 16. #32 lay dormant until July 23, when outfielder Lyle Mouton made his Orioles debut three weeks after being purchased from the Yakult Swallows of the Japanese league. He singled twice in ten at-bats before taking the bus ride to Rochester on August 4. On August 8, Munoz returned to the O's and tossed four innings in two games; he was sent out again on August 16. When rosters expanded from 25 players to 40 on September 1, Mouton came back again, managing to stick around for the entire final month of the season. The final tally: three players wore #32 for a total of five alternating stints with the team, and they appeared in a total of 37 games. There's no truth to the rumor that their names were embroidered on Velcro panels.

Let's close the book on thirty-two with outfielder Chuck Diering (1954-1956); lefty Ron Moeller (1956), who made his debut at age seventeen; pitcher Dave Boswell (1971); third baseman Tom Matchick (1972); bespectacled pitcher Mike Parrott (1977); reliever Joe Kerrigan (1978); pitcher Bill Swaggerty (1983-1986); offensively challenged outfielder Jarvis Brown (1995); meatball pitcher Shawn Boskie (1997); and reliever Al Reyes (1999-2000), who is notorious for breaking Nomar Garciaparra's wrist with an errant pitch.

---


First baseman Eddie Murray (1977-1988, 1996) is not only the best switch hitter ever to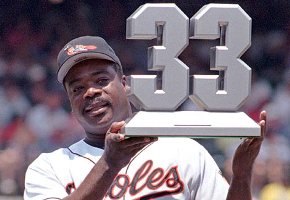 play for the Orioles, he is one of the best ever to play baseball. You know all of the numbers: 1977 AL Rookie of the Year, three Gold Gloves, eight All-Star Games, 504 home runs, 1917 runs batted in, seven top-ten finishes in MVP voting. All of that aside, Cal Ripken, Jr. credits Eddie as one of his major influences; their friendship was instrumental in Cal's development as a big league player. As the O's backslid into oblivion in the 1980s, Murray became a scapegoat for the team's troubles. When team brass decided to rebuild, the slugger was sent to the Dodgers for a package including shortstop Juan Bell. Seriously. The story had a happy ending, however; the Birds brought Eddie back in the middle of the 1996 pennant race. He received a hero's welcome from the Baltimore fans, and swatted his 500th home run at Camden Yards. In 1998, shortly after Murray's retirement, his #33 was retired by the Orioles. He also coached first base for the team in 2000 and 2001, and entered the Baseball Hall of Fame in 2003 as an Oriole.

The first Oriole to wear #33 is also the man who won the team's first game in Baltimore. Fireballing righthander "Bullet" Bob Turley (1954) went the distance in the April 15 home opener at Memorial Stadium, besting the White Sox 3-1. He won 14 games to pace the team and was their lone All-Star. Of course, he was dealt to the Yankees as one of the key players in the incredible seventeen-man trade that offseason, and went on to flourish in New York.

The other #33 of note in Birds lore is Paul Blair (1964-1965). Yes, he is etched in the minds of O's fans as #6, but he initially wore the double-three as a rookie.

With Eddie owning #33 for the past thirty years, there have been only a few others who have worn it in orange and black. The others are third baseman/outfielder Bob Kennedy (1955), father of Orioles catcher Terry Kennedy; young third baseman/second baseman Wayne Causey (1957); outfielder Jim Busby (1958); third baseman Jim Finigan (1959); Bob Saverine (1959), who made one appearance as a pinch runner before resurfacing three years later; outfielder Dave Nicholson (1960, 1962), who went to the White Sox in the trade for Luis Aparicio; pitchers Paul "Gorilla" Gilliford (1967) and Fred Beene (1969-1970); first baseman/pinch hitter Bob Oliver (1974); and catcher Jim Hutto (1975).

---


Pitcher George Earl Davis is better known as "Storm" by baseball fans. Davis (1982-1986, 1992) was highly touted as a young player. Teammate Mike Flanagan referred to him as "Cy Clone" because of his striking similarity to another tall righthanded Oriole, Jim Palmer. Early on, those comparisons were apt; as a 20-year-old rookie in 1982, Davis won eight games while working primarily out of the bullpen. The following year he won thirteen games as a full-time starter for the Birds and won both of his postseason starts, including a 5-4 decision in Game Four of the World Series. In total, Storm won 54 games in five seasons before the stumbling O's traded him to San Diego in October 1986 for catcher Terry Kennedy and pitcher Mark Williamson. Davis returned to the team in 1992 as a reliever, winning seven games and pitching fairly effectively. During that season he was also reunited with Glenn Davis. The two Davises were not blood relatives, but Storm's parents had adopted Glenn in 1970 and raised him as their own. Strange, but true.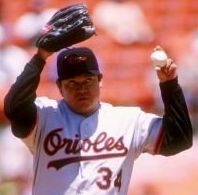 Another young pitcher who made a splash in the early 1980s was Fernando Valenzuela (1993). The rotund native of Mexico ignited a phenomenon known as "Fernandomania" while twirling for the Dodgers; in his debut season of 1981, he won both the Rookie of the Year and Cy Young awards, the only pitcher to ever accomplish that feat. As the decade wore on, Fernando lost effectiveness and had gone back to Mexico when the Orioles took a flyer on him. In 1993, his only season in orange and black, the 32-year-old hurler had his share of struggles. He did not notch his first win until May 18, won eight games and lost ten, and gave up nearly five runs per nine innings on the season. However, when he was good, he was very good. Valenzuela tossed two shutouts - a two-hit gem against Cleveland and a six-hit effort to best the eventual World Champion Blue Jays - and went the distance in five of his eight wins overall.

Another veteran National League pitcher who spent just one year in Baltimore was righty Kris Benson (2006), whose numbers were actually quite similar to Valenzuela's: 11 wins, 12 losses, a 4.82 ERA. The following season, Benson had shoulder surgery in spring training and did not pitch a single game. For all of the commotion she raised in New York, Kris' wife Anna held her tongue in Charm City, for which we should be grateful (if Aubrey Huff's adventures have taught us anything).

Three Robinsons have worn #34 in Baltimore: third baseman Brooks (1956), who you may know as #5; outfielder Earl (1964); and pitcher Jeff (1991), who the Orioles oh-so-wisely acquired in a trade for Mickey Tettleton.

When Jay Gibbons broke the stranglehold that Orioles pitching coaches once had on #31, a couple of those coaches settled for #34 in return engagements. Mark Wiley (2001-2004) and Ray Miller (2004-2005) were probably hoping to be incognito anyway, considering the performance of their pitchers in those years. Also wearing #34 was first base coach Marv Foley (1999).

Bob Reynolds (1972-1975) had a few stellar years coming out of the O's bullpen. He only pitched two full years in Birdland (1973 and 1974), but won 14 and saved 16 in those two seasons, posting ERAs of 1.95 and 2.73. Other relief men who wore #34 include Mike Blyzka (1954) and Mickey Weston (1989-1990).

The stragglers in #34 are pinch hitters Charlie Maxwell (1955) and Ozzie Virgil, Sr. (1962); shortstop Mickey McGuire (1962); reserve catcher Larry Haney (1966-1968); first baseman Tony Muser (1975); outfielder Larry Harlow (1977); pitcher Nelson Briles (1978); designated hitter Jose Morales (1981-1982); Jeff Ballard (1987-1988), who wore the number as a rookie; outfielder and former #1 draft pick Mark Smith (1994-1996); catcher Charlie Greene (1997, 1998); and journeyman pitcher Pat Rapp (2000). Husky pitcher Matt Albers (2008-2009), acquired from Houston in the Miguel Tejada trade, kept #34 warm for starter Kevin Millwood (2010). Millwood went just 4-16 in his lone season in Baltimore, and young hurler Jake Arrieta (2011-present) hopes to do much better than the vet as he switches from #57. Arrieta, who grew up in Texas, also wore #34 collegiately at Texas Christian University to honor Nolan Ryan.
---


Pitcher Mike Mussina (1992-2000) has had a great career marked by near-misses. He has set a major league record for the most career wins (250) without ever winning 20 games in a single season. 147 of those victories came in an Orioles uniform, placing him third in team history. Moose is the franchise's all-time leader in won-lost percentage, winning 64.5% of his decisions.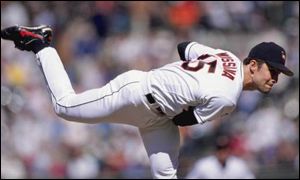 Mussina narrowly missed a perfect game on three separate occasions with the O's, including a May 30, 1997 game against Cleveland marred only by Sandy Alomar, Jr.'s one-out double in the ninth inning. He pitched the series of his career in the 1997 ALCS against Cleveland, allowing just one run and eight baserunners in fifteen innings while striking out 25 Indians. But the Birds failed to give him a single run of support, and he did not record a decision in his two games. The team lost both games as well as the series. After the Orioles failed to extend his contract, Mussina bolted for the big bucks and glory of the defending champion Yankees. It's interesting to note that after winning 4 of 5 World Series between 1996 and 2000, the Bronx Bombers are 0-for-7 since his arrival. Curse of the Moose?

Following Mussina's departure, several other starting pitchers have slipped on the #35 jersey, none of them coming close to matching his contributions: rookie Josh Towers (2001-2002); veteran mediocrity Rick Helling (2003); and the talented-but-frustrating-to-watch Daniel Cabrera (2004-2007). A relief pitcher tried his hand at #35 in 2008, with disastrous results: righty Greg Aquino had a double-digit ERA before being dumped. But finally, a ray of light appeared in the form of Brad Bergesen (2009-present). The rookie had a reputation in the minors for working quickly and throwing strikes, but didn't have the raw stuff of the more heralded pitching prospects. Yet he quickly found a groove after a late April callup and was a dark horse Rookie of the Year candidate (7-5, 3.43 ERA) when a line drive by Billy Butler of the Royals injured his leg and ended his season in July. He had an up and down sophomore season, though.
Of course the first starter to achieve greatness in #35 was Mike Cuellar (1969-1976), who baffled hitters with his screwball and changeup. Following a trade from Houston, he won a share of the Cy Young Award (along with Detroit's Denny McLain) in his first year with the Birds (23-11, 2.38 ERA). It was the first of three consecutive 20-win seasons for Cuellar, whose 143 career wins put him right behind Mike Mussina in fourth place in O's history. He also grabbed a share of postseason history, gaining victories in the Birds' only win in the 1969 World Series as well as the Game Five clincher against the Reds. Cuellar even did some damage with his bat, clubbing the first grand slam in League Championship Series history against the Twins in 1970. Another Orioles hurler who made home run history was rookie Buster Narum (1963), who was the first player in team history to go deep in his first major league at-bat.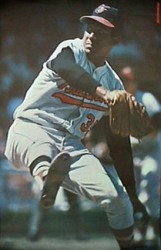 Outfielder Gary Roenicke (1978-1985) was one half of Earl Weaver's best platoon. Splitting time with John Lowenstein, Gary twice swatted over 20 home runs in a season and excelled in the team's 1983 ALCS win over the White Sox. Appearing in three games in that series, Roenicke reached base in eight of nine plate appearances. He also scored three of the team's four runs in a 4-0 decision in Game Two, allowing the team to tie the series at one game apiece.

Speaking of postseason heroes, one of the most famous is outfielder Bobby Thomson (1960). "The Flying Scot" played just three games with the O's at the end of his career. But his place in baseball lore was secured in a one-game playoff with the Giants in 1951, when his ninth-inning home run off of Dodgers pitcher Ralph Branca sent New York to the World Series.

Pitcher George Zuverink (1955-1959) was the first relief ace for the Orioles, winning 23 games and saving 36 others in parts of five seasons in Baltimore. He also formed the only "Z" battery in big league history, twice pitching to rookie catcher Frank Zupo in 1957.

The supporting characters in #35 include two pitchers named Coleman - Joe (1954-1955) and Rip (1959-1960); veteran catcher Del Rice (1960); rookie pitcher Wally Bunker (1963); pitcher "Toothpick" Sam Jones (1964), who in 1955 became the first African-American pitcher to throw a no-hitter in major league history; pitchers Ken Rowe (1965) and John Miller (1965); catcher Camilo Carreon (1966); reliever Roger Nelson (1968); Randy Miller (1977), who lasted two-thirds of an inning in orange and black; outfielder Keith Hughes (1988), whose .294 on-base percentage was putrid even for the awful 1988 team; first baseman Francisco Melendez (1989); designated hitter Greg Walker (1990); and outfielder Dave Gallagher (1990).

---


Pitcher Tom Phoebus (1966-1970) started his career with two consecutive shutouts in September 1966, becoming just the fourth player in American League history to achieve that feat. The Baltimore native returned in 1967 to win The Sporting News' AL Rookie Pitcher of the Year award on the strength of his 14-9 record with 179 strikeouts and a 3.33 ERA. The finest performance of Phoebus' career came on April 27, 1968, when he no-hit the Boston Red Sox. He would finish that season with career bests in wins (15), strikeouts (193), and ERA (2.62). After a strong 1969 season (14 wins), Phoebus started only 21 games in 1970; however, he did pick up a victory in relief of Mike Cuellar in Game Two of the World Series. Two months later he was an ex-Oriole, traded to the Padres in a deal that brought Pat Dobson to Baltimore. Incidentally, the first two players to wear #36 after Phoebus were also named Tom: pitcher Dukes (1971), who was the other player acquired in the Dobson deal; and designated hitter Davis (1972), who switched to #12 the following year.

You may be surprised to learn that longtime Orioles reliever Tippy Martinez (1976) originally sported #36 after arriving in a midseason trade from the Yankees. He soon switched to the number 23 that we all identify him with now, and kept it for the next eleven years.
Two of the most dependable utility infielders in the O's annals wore #36. The first was Tim Hulett (1989-1994), whose career highlights included a .417 batting average with runners in scoring position in 1992 and a .300 batting average overall in 1993. He was followed by Jeff Reboulet (1997-1999), the giant killer who hit two home runs off of hard-throwing Mariners lefty Randy Johnson in 1997. The second time he took Johnson deep was in the first inning of the decisive Game Four of the ALDS The O's would win the game 3-1, allowing the team to advance to the ALCS and face Cleveland.

Speaking of the Birds' last flirtation with postseason success, portly veteran David Wells (1996) spent one year in orange and black. He had an up-and-down regular season (11-14, 5.14 ERA), but the team won all three of his playoff starts.

Pitcher John Parrish (2003-2005, 2007) showed flashes of brilliance in Charm City, but his maddening inability to find the strike zone and to stay healthy precipitated his exit. Other young pitches who wore #36 in Baltimore were Paul Mitchell (1975), who was one of the players that enticed the A's to give up Reggie Jackson; Allan Ramirez (1983); and Kris Foster (2001). It's also worth noting that reliever Nate Snell (1984-1986) made his major league debut for the O's at the tender age of 32 and performed admirably for a couple of years.

Two Johnsons wore thirty-six for the Orioles. Pitcher Connie Johnson (1956-1958) got his start in the Negro Leagues as a teammate of Satchel Paige. Though he was in his mid-thirties by the time he reached Mobtown, Johnson shined as an Oriole; he won 29 games in three seasons, including a career-high 14 in 1957. Veteran catcher Darrell Johnson (1962) played only six games with the team before being released. However, he was retained as a coach for the remainder of the season. He would go on spend eight seasons as a manager, helming the 1975 Red Sox team that lost to the Reds in one of the greatest World Series ever played. The only other Birds coach in #36 is bullpen coach Alan Dunn (2008-2010).

Center fielder Gary Matthews, Jr. (2002-2003) seemed to turn a corner after the O's acquired him from the Mets, but he regressed the following year and was waived in May. The only other outfielders to wear #36 in Baltimore were Gene Green (1960); rookie Mike Dimmel (1977-1978); and Mike Hart (1987).

The remnants in #36 are pitcher Jim Wilson (1955-1956); catcher Hank Foiles (1961); veteran relievers Steve Luebber (1981), Terry Clark (1995), Tim Worrell (2000) and Darren Holmes (2000); designated hitter Carlos Casimiro (2000); reserve catcher Raul Chavez (2006); and long reliever Chris Jakubauskas (2011-present). Jakubauskas first wore #55 for the Orioles, but Alfredo Simon reclaimed that number while the former was in Norfolk.
---


Reliever Stu Miller (1963-1967) seems to be best-known for the more dubious moments of his career: combining with Steve Barber on a no-hitter in a losing effort (Miller's wild pitch in the ninth allowed the deciding runs to score); losing his balance in the 1962 All-Star Game in San Francisco and being called for a balk; and allowing Mickey Mantle's 500th career home run. But in between, he was the go-to guy in the Orioles bullpen as they came of age. Miller won 38 games in relief with the O's, and he was the first pitcher in team history to amass 100 saves. His 2.37 ERA (over 502 innings) is a team record, as well. Another righty reliever named Miller wore #37 for the Birds - Dyar (1975-1977), who was traded to the Angels for veteran bullpen man Dick Drago (1977).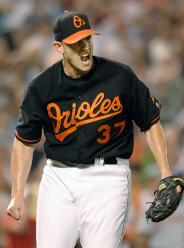 A less successful closer in #37 was Chris Ray (2005-2009), whose first few seasons probably had longtime fans hoping that he'd be the next Stu Miller or Gregg Olson. In his first year as the O's fireman, the 24-year-old saved 33 games for a team that won just 70 total. But Ray's performance slipped a bit in 2007, and he was shut down with Tommy John surgery during the summer. After missing all of 2008, he struggled badly in 2009 and was subsequently traded to Texas for starter Kevin Millwood. Speaking of Millwood, reliever Matt Albers (2010) switched from #34 to #37 to accommodate the ex-Ranger.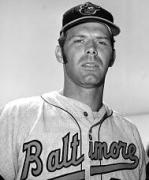 #37 isn't just for relief pitchers. Righthander Pat Dobson (1971-1972) paid immediate dividends upon arriving from San Diego via trade. In his first year in orange and black Dobson was one of four starters in orange and black to win 20 games, a feat that may never be matched again. He actually pitched slightly better the following year, allowing fewer runs and baserunners per game, but was victimized by poor run support and lost 18 games while winning 16. During the offseason, he was dealt to Atlanta in the Earl Williams trade discussed elsewhere on this page. Pat returned in 1996 to coach the Orioles' pitchers, but was not retained after the team placed eighth in the American League with a whopping 5.15 ERA.

Speaking of dubious trades, first baseman/designated hitter Glenn Davis (1991-1992) cost the Birds three young players who would go on to amass 301 home runs, 282 stolen bases, 310 wins, nine All-Star appearances, and three World Series championships...to date. Sixteen years after the swap, Schilling is still active, and Finley hopes to catch on with another team in 2008. In return, Davis gave the Orioles 24 home runs and 85 RBI over 185 games. Echh.

Center fielder John "T-Bone" Shelby (1981-1987) wore #37 longer than anyone else in team history, and was a member of two World Series champs: the O's in 1983 and Kirk Gibson's 1988 Dodgers. Two notable Orioles who debuted in #37 before switching out were first baseman/outfielder Terry Crowley (1969-1970), who later wore #11; and third baseman Doug DeCinces (1973), who...also swapped it for #11. What a coincidence.

Reliever Dan Boone (1990) was another of the Birds' odd reclamation projects. He had made his major league debut with the Padres in 1981 as a 27-year-old rookie, and after logging 20 games in 1982, he was out of the big leagues. Boone officially called it a career in 1984, but made a comeback as a knuckleballer in the Senior Professional Baseball League five years later and turned it into a contract offer with the O's. The following September, after an eight-year absence from the bigs, the 36-year-old made his return and pitched serviceably in four games.

Other Baltimore pitchers to wear #37 were Howie Fox (1954), who was fatally stabbed in a bar fight five months after being released; Bob Alexander (1955); Tex Nelson (1955-1957); John Morris (1968); John Flinn (1978-1979); lefty Bill Scherrer (1988) and unfortunately-named Dickie Noles (1988); rookie Rick Krivda (1995); used-up veteran relievers Norm Charlton (1998) and Mike Fetters (1999); and the demonstrative Willis Roberts (2001-2003).

The full complement of thirty-sevens also includes Eddie Robinson (1957-1959), who finished his career in pinch-hit duty for the O's but stuck around for two years as a coach; first baseman Walt Dropo (1959); catcher Dan Graham (1980); infielder and future Rangers skipper Ron Washington (1987); hitless catcher Tim Laker (1997); outfielder Danny Clyburn (1997); veteran catcher Greg Myers (2000); and career minor leaguer/outfielder Napoleon Calzado (2005). Ex-Blue Jay Jeremy Accardo joined the O's bullpen in 2011 in #37 after wearing #49 in Toronto.
---

Call him a flake if you must, but outfielder John Lowenstein (1979-1985) was pretty good at his day job. As the lefty half of an outfield platoon with Gary Roenicke, Brother Lo feasted on righthanded pitching (one HR every 7.5 at-bats in 1982). He had the greatest season of his career at the ripe old age of 35 in 1982, walloping 24 home runs and batting .320. Of course, it was Lowenstein's goofy antics that cemented his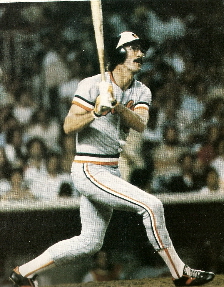 legacy in Baltimore. He once claimed that he kept his wrists strong while serving as designated hitter by flushing the toilet between innings. In one famous incident, the outfielder was struck by a thrown ball while running the bases and had to be stretchered off. Just before the stretcher reached the dugout, Lo suddenly sat up straight and pumped his fists, to the raucous approval of the Memorial Stadium faithful. He definitely knew how to make an exit.

Another player who excelled in his mid-thirties for the O's was Hall of Fame pitcher Robin Roberts (1962-1965). Once the author of six straight 20-win seasons with the Phillies, Roberts had been left for dead by both Philadelphia and the Yankees when the Birds took a chance on him. They were rewarded instantly, as Robin posted his lowest ERA in a decade while winning 10 games in 1962. He'd pick up 27 more victories over the next two years while mentoring a promising young crop of starters including Milt Pappas, Dave McNally, Steve Barber, and Wally Bunker. Each of Roberts' rotation mates was at least ten years his junior!

Speaking of young pitchers, a stockpile of budding hurlers wore #38 in Baltimore throughout the years: lefty Fred Besana (1956); Billy O'Dell (1957), not to be confused with veteran Billy Loes (1956); bonus baby Jerry Walker (1958-1960); Jim Lehew (1962) and his 11 and 2/3 career innings; Ed Barnowski (1965, 1966), who walked eight hitters in 7 and 1/3 innings; erratic Jesse Jefferson (1973-1975); reliever Fred Holdsworth (1976-1977); southpaw Rick Krivda (1996-1997); and Rocky Cherry (2007-), who was pushing it as a 27-year old rookie. Still, he has a fantastic name.

Lefthanded pitcher Jay Heard (1954) only appeared in two games for the O's, but he left his mark. The World War II veteran and former Negro Leaguer made the team's inaugural Opening Day Roster. He would be the first black player in Orioles history, having waited until the age of thirty-four to attain his brief taste of the bigs.

Aside from the previously-mentioned Lowenstein, no position player has ever done much of note while wearing number thirty-eight in orange and black. The rogues' gallery includes outfielder Ken Gerhart (1986-1988); mulleted outfielder/designated hitter Jeff McKnight (1991); designated hitter Sam Horn (1992); designated hitter/outfielder Mark Leonard (1993); Aruban outfielder Eugene Kingsale (1999); outfielder/first baseman/hot dog Chris Richard (2000-2002); catcher Robert Machado (2003); and second-generation outfielder Tim Raines, Jr. (2003-2004).

There are a few more pitchers in Orioles history who have worn #38: reliever Dick Hall (1961), when he first joined the team; Dick Hyde (1961); sidearmer Mark Eichhorn (1994); second-timer Richie Lewis (1998), who had worn #55 as a rookie in 1992; Jason Grimsley (2004-2005), who I'm sure is a great guy when he isn't doping; and doomed reliever Jim Brower (2006).
Former outfielder John Shelby (2008-2010) returned to the O's as first base coach. Since closer Chris Ray already had Shelby's old #37, he settled for #38, becoming the first Baltimore coach to wear the number.
---


There is little competition for the title of best Oriole to wear #39. Relief specialist Eddie Watt (1966-1973) wore it the longest and accomplished the most: his earned run average never topped 3.30 in a Baltimore uniform after his rookie season. Watt was also something of a Yankee killer; his 1.29 career ERA against the hated pinstripers was his best mark against any opposing club.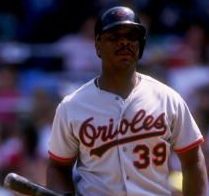 The most notable pitchers aside from Watt to claim #39 with the Birds did so as young players, achieving a greater measure of success in other digits. Lefty Ross Grimsley (1974-1976) did win 18 games in his first season in Baltimore, but switched to #48 when it became available. He was followed by another talented lefty, Scott McGregor (1976-1977). Once Scotty got settled in he opted to wear the #16 of his idol, Yankee great Whitey Ford. A few years later, promising rookie Storm Davis (1982) briefly wore #39 but ultimately went with #34.

First baseman/designated hitter Randy Milligan (1989-1992) got his first real chance to play in Charm City after brief cameos in New York and Pittsburgh and quickly became a fan favorite. The original "Moose" was more nimble in the field than his moniker would lead you to believe, but his real value was at the plate. Randy had a good deal of pop and a great batting eye; he walked between 70 and 108 times in each season with the O's, reaching base at a near-40 percent clip.

Unfortunately, there seem to be more infamous thirty-nines in O's history than there are famous players. Outfielder Dallas Williams (1981) had just one hit in two at-bats in an Orioles uniform. That's still better than he had fared earlier that season in Rochester, when he set a record for futility by going 0-for-13 in the Red Wings' historic 3-2 thirty-three inning loss to the Pawtucket Red Sox. Relief pitcher Doug Sisk (1988) performed serviceably for an awful team, but hadn't been as well-regarded in his previous stop in Queens. One Mets fan reportedly mailed Sisk a gag prescription for cyanide "to be taken daily".
By the time he landed in Baltimore, designated hitter Lonnie Smith (1994) was a few years removed from a crucial baserunning blunder in Atlanta's Game Seven loss in the 1991 World Series. But few gaffes on the base paths have been as humiliating as designated hitter Jack Cust's (2003-2004). In August of 2003, Stumblin' Jack amazingly broke for home plate in the middle of a rundown to find that no one was covering the dish. Cust did what any of us would have done in his shoes...um, he fell flat on his face and was tagged for the final out of a 12-inning, 5-4 loss to the hated Yankees. Eesh.

A little bit of outfielder Tito Landrum (1983) went a long way. In limited duty for the last O's team to win a world title, he batted .310. Tito saved his best for last; in his final at-bat of the season, he walloped a tenth-inning home run to power the Birds to a 3-0 win over the White Sox in the deciding Game Four of the ALCS.

As usual, I'll run through the excess #39's in two parts. The pitchers: Don Ferrarese (1956-1957), who wore two other numbers in his three years here; Ken Lehman (1957-1958), who was decent in relief; here-then-gone rookies John Papa (1961, 1962) and Jim Lehew (1961); midseason fill-in Paul Mirabella (1983); mediocre starter Ken Dixon (1984-1987); journeyman Mike Hartley (1995); another crop of rookies including Nerio Rodriguez (1996, 1997-1998), Rule 5 draftee Mike Johnson (1997), Chad Paronto (2001), and Cory Morris (2006). Morris spent three glorious days on the ML roster without throwing a pitch. There's also reliever Yorkis Perez (2002); washed-up sidearmer Steve Reed (2005); and youngster Jim Hoey (2007-present).
Finally, the last few hitters: offense-deficient outfielder Mike Anderson (1978); giant designated hitter Calvin Pickering (1999); designated hitter/first baseman Mike Kinkade (2000); former Reds #1 draft pick Chad Mottola (2004); outfielder Darnell McDonald (2004); and quadruple-A outfielder Jon Knott (2007).
Pitching coach Rick Kranitz (2008-2010) oversaw a young staff with several highly-touted prospects, but moved on to Milwaukee in 2011 after Buck Showalter took over as manager.